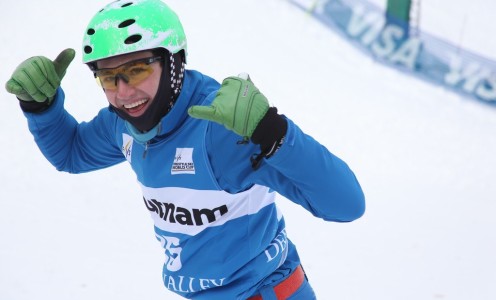 University of Bath student Lloyd Wallace produced two personal bests as he finished a fantastic seventh at the Aerial Skiing World Cup in Deer Valley, Utah.
The 20-year-old, who is supported by a Santander Sports Scholarship, landed two triple-twisting somersaults – a move he has been working on in training – to achieve his impressive result.
"I am absolutely ecstatic!" said the Sport Performance student. "Both jumps were the best I've ever done on snow.
"I still can't believe it – I was aiming for the top 20, so to come away in seventh is just a dream. Big thanks to my coach, Mich Roth, who deserves just as much credit."
Wallace, who won Great Britain's first-ever Europa Cup gold medal last year, was up at 5am for the competition and landed his qualification jump before 8am.
His score of 104.37 was a new personal best and put him 12th overall, meaning he qualified for the final.
With nothing to lose, Wallace went big with his second jump – so big that he was one of only three skiers to achieve the maximum height score of 2.0 from the judges. After another clean landing, Wallace was awarded an overall score of 113.97.
Although there is no British support crew, Wallace was coached by Mich Roth of the Switzerland national team and supported by his compatriots, Mischa Gasser and Mac Bohonnon.