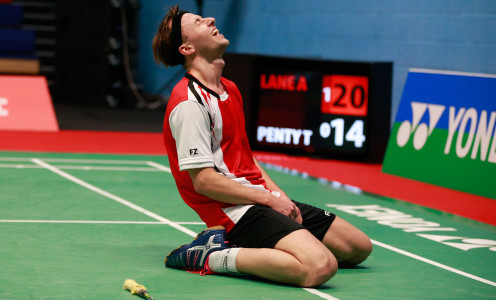 University of Bath student Alex Lane produced some of the best badminton of his career so far to reach the men's singles final at the English National Championships.
Lane, who is studying Sports Performance and is supported by a Trendell Sports Scholarship, beat fellow Bath-based player Henley Ngan 21-10 21-8 in the quarter-finals.
He then recorded an excellent 21-9 21-14 victory over number-two seed Toby Penty – ranked in the world's top 100 – to set up a title showdown with Rajiv Ouseph.
Experience came to the fore as Ouseph won 21-10 21-9 to clinch an eighth national title but Lane could take great credit from his run.
Pete Bush, Head Badminton Coach at the University of Bath, said: "It is a fantastic achievement for Alex to reach a national final. His win in the semi-final against Toby was particularly impressive and a really emotional moment for him."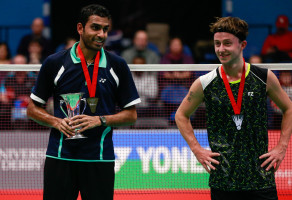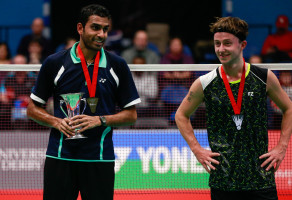 By reaching the final Lane emulated his mother, Sue Louis, who won two consecutive English National singles titles in 1993 and 1994.
Coach Education and Sports Development graduate Heather Olver retained her women's doubles title with Lauren Smith, coming from behind to beat Sophie Brown and Kate Robertshaw 19-21 21-18 21-7.
Former Team Bath badminton player Chris Coles reached the mixed doubles final with Brown, where they were beaten 21-11 21-11 by Commonwealth champions Chris and Gabby Adcock.
Several members of Bush's training group also took part in the Welsh National Championships over the weekend, with Mathematics student Matt Pritchard reaching the final of the men's doubles and semi-final of the singles.
"It was great to see so many of our players gaining national experience and performing so well," Bush added.
"It really provides a positive reflection on the badminton programme here at the University."
There is a busy month ahead for the badminton squad, with Kirby Ngan – who trains at the University ­– set to make her England senior debut after being selected for next week's European Team Championships in Kazan, Russia.
Ngan and Mathematics student Devon Minnis are among several players who will also be in action at the National U19 Championships in Milton Keynes.
And Lane, who is a non-travelling reserve for the European Team Championships, will be competing alongside his fellow students at the BUCS Individual Championships in Sheffield.