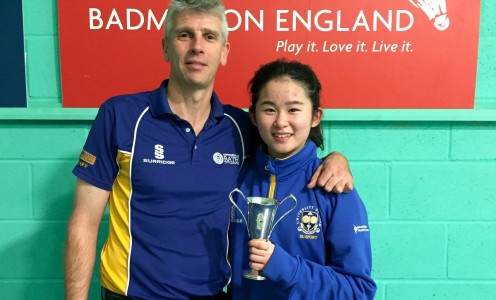 University of Bath-based badminton player Kirby Ngan will make her senior England debut this week on the back of a double success at the National U19 Championships.
The 18-year-old, from Bristol, won both the ladies' singles and doubles titles in Milton Keynes over the weekend before flying out to Kazan in Russia to compete in the European Team Championships.
Ngan is part of Head Badminton Coach Pete Bush's training group at the Sports Training Village.
"I've been working with Kirby since she was ten," said Bush, pictured above with Ngan. "She trained with us as part of the Team Bath Futures development programme and has done very well.
"It's great to see her going from strength to strength and she deserves her England call-up, I'm sure she will find it a memorable experience."
Ngan admitted she was surprised to get her first senior national selection.
"I felt really shocked at first but honoured to have been picked for such a big event," she told Badminton England.
"Being selected for the seniors was something I didn't expect at this point in time. I'm just really happy about the news."
Jon Austin, Badminton England's performance director, said: "We are always looking to the future and the acceleration of our most talented young players to perform at the highest level.
"Kirby is a player who performed well at the World Junior Championships last year, demonstrating she is a talented prospect who can gain invaluable experience from early introduction to the senior England Team and the competition in Kazan."
The European Team Championships get under way on Tuesday and conclude on Sunday.
Mathematics student Devon Minnis was also in action at the National U19 Championships last weekend and reached the semi-finals of the mixed doubles before narrowly losing 23-21 in the final set.
She is one of 13 University of Bath students competing at the BUCS [British Universities & Colleges Sport] Individual Championships in Sheffield this weekend.
The group includes Sports Performance student Alex Lane, a Trendell Sports Scholar who is looking to follow up his progress to the senior men's final at this month's English National Championships by winning the men's singles title.