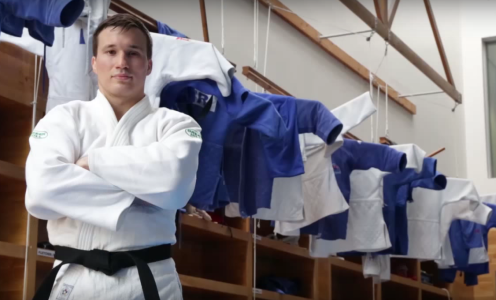 The road to Rio will travel through the Czech Republic, Peru, Argentina, Georgia and Turkey for University of Bath judoka Jan Gosiewski over the next few weeks.
So ahead of his final push for a dream Olympic place in Team GB, the 27-year-old has launched a crowd-funding campaign to help cover the costs of his extensive travels.
The global nature of judo means that Gosiewski has to go around the world to take part in ranking tournaments as he looks to secure enough points for Rio qualification.
After competing in Australia and China just before Christmas, he is now at a training camp in Germany as he prepares for successive World Cup contests in Prague, Lima and Buenos Aires. Then, after a weekend off, he will return to Europe to fight in Grand Prix events in Tbilisi and the Turkish city of Samsun.
It is a hectic schedule for Gosiewski, especially as he is also studying for a PhD in Orthopaedic Biomechanics, and he is appealing for additional financial support to help him achieve his goal.
"The path to sporting glory involves blood, sweat and tears, which I gladly provide in copious amounts," he said. "However the movies don't tell us about another significant ingredient – money!
"Athletes increasingly have to fund their own travel, which is why I launched the crowd-funding campaign aimed at raising funds for me to take part in training camps and Olympic qualification tournaments for Rio 2016.
"For any support towards realising my life's dream I will be extremely grateful. It would be the culmination of 20 years' hard work."
Gosiewski, who has been part of Jurgen Klinger's elite group of judoka at the Sports Training Village since September 2006, receives some financial backing from the University.
As well as a Dyson Scholarship for his PhD studies, Gosiewski received a Trendell Sports Scholarship and is assisted by the University's Dual Career programme which helps students juggle their sporting and academic careers.
"I will have been at Bath for ten years this September," he said. "It is the perfect place for me – I can combine elite judo training with a first-class education.
"I couldn't have received more help from the University and I am incredibly grateful for that support but now I need some outside backing to supplement it."
Gosiewski, who competes in the -73kg weight division and fought at the Glasgow 2014 Commonwealth Games, is currently outside the qualification places but is confident he can make up the required ground before the May 30 deadline.
"I have a realistic chance of getting to Rio, a couple of good performances will push me right up the rankings," he added.
"I know I can do it and I am doing all I possibly can to get there. It would be a shame if funding was the thing holding me back. In elite sports, small margins make all the difference and I just need that final push."
Click here for more information on Jan Gosiewski's crowd-funding campaign.