University of Bath student Tom Toolis and graduate Sam Curry have joined Pentathlon GB team-mate Francesca Summers in the individual finals of the Modern Pentathlon World Cup in Cairo, Egypt.
Toolis (pictured left), who is studying Sports Performance, finished 12th in Group C of the men's qualifiers on Thursday, crucially moving up two places in the combined run/shoot event.
Qualification was more comfortable for Politics and International Relations graduate Curry, whose 20 victories in the fencing salle paved the way for an eighth-placed finish in Group B.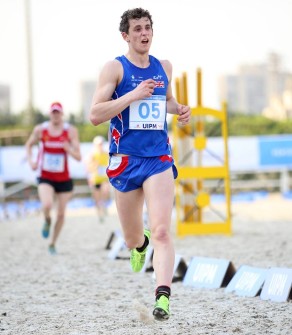 They will now compete for valuable Rio 2016 qualification points in the men's final on Saturday.
Reigning World Junior Champion Summers is the sole British representative in the women's final on Friday after an impressive performance in qualifying, where she finished third in her group. The 20-year-old's 21 fencing victories was the best result of all 88 pentathletes competing.
For full reports on the qualifying rounds in Cairo, click here to visit the Pentathlon GB website.