Students on a Sports Massage course at the University of Bath will be putting their new-found skills to good use on Sunday as they help runners prepare and recover at the 2016 Vitality Bath Half Marathon.
For the third successive year, Team Bath Training & Development is the official Sports Massage Provider for the Bath Rugby Foundation team as they take on the 13-mile challenge.
This year a team of 150 runners, representing and fundraising for the charity, will benefit from the massage skills of students past and present.
Charlotte Addis, Programme Lead for Sports Massage, said: "This is a fantastic opportunity for our students to massage in a real-world setting while supervised and supported.
"We will be providing massage both before and after the event, helping the runners to get warmed up and ready before aiding their recovery afterwards.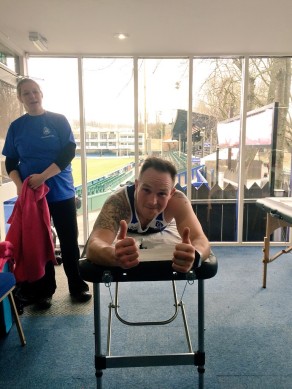 "The Bath Rugby Foundation aim to reach people at key times in their lives to really make a difference, whether that be isolation, social deprivation, learning difficulties, unemployment or at risk of exclusion, both educationally and socially."
Looking to pursue a career in Sports Massage Therapy? Click here to find out more about the courses available at Team Bath.
Eleven University of Bath staff members will also be among the 13,000 runners in Sunday's half-marathon as they raise money for students taking part in the UK Sport IDEALS project in Zambia.
The University's Department of Sports Development has been involved in the project for the past ten years, with students spending six weeks in the African country working in schools and villages to deliver PE lessons, sporting competitions and health awareness workshops.
The team consists of Catherine Evans (Facilities Sales & Development Manager), Rich Turner (Senior Membership Sales Consultant), Ben Coombs (Track Controller), Rob Whalley (Sports Duty Manager), James Lambdon (Lifestyle & Sports Psychology), Chris Burling (Sports Training & Development Manager), Che Wilson (Head of Football), Zoe Ashman (3:Thirty Workforce Development Officer), Mehul Karia and Steph Courty (Sports Science Placement Students), and Jody Paul (Hockey Head Coach).
To sponsor the team, visit https://mydonate.bt.com/charities/universityofbathteambathhalf