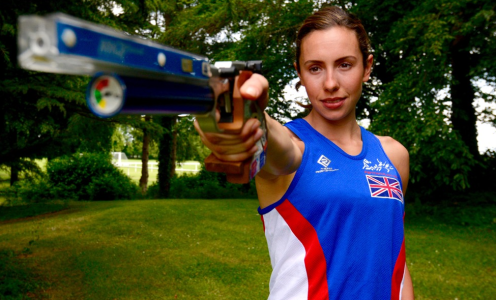 All four of the Pentathlon GB women's team will get to compete in the Rio 2016 Olympic venues for a second time this week after qualifying for the final of the UIPM World Cup in Brazil.
University of Bath graduates Samantha Murray, Kate French and Freyja Prentice all progressed through Thursday's heats at the competition, which is doubling as a test event for this summer's Olympic Games.
Reigning World Junior Champion Francesca Summers also secured her place in the women's final, which will be split over Friday and Saturday to reflect the new schedule being adopted at Rio 2016.
French and London 2012 silver-medallist Murray (pictured) both qualified automatically, placing seventh and eighth in their respective groups.
Summers finished two places behind French, just outside automatic qualification, but had done more than enough to go through as one of the top 36 pentathletes overall.
Prentice, in her first appearance since dislocating her shoulder at Christmas, produced a good run/shoot to hold on to 13th position in her group and go through in 32nd overall.
The quartet will be back in action on Friday when they compete in the fencing ranking round of the women's final. They will then continue their final on Saturday with the swim, fencing bonus round, ride and combined event.
Friday will also see the British men's team testing out the brand-new Olympic facilities in Deodoro, with Sam Curry, Jamie Cooke and University of Bath students Joe Choong and Tom Toolis all competing for a spot in Sunday's final.
A full report on the women's heats is available on the Pentathlon GB website – click here to read it.