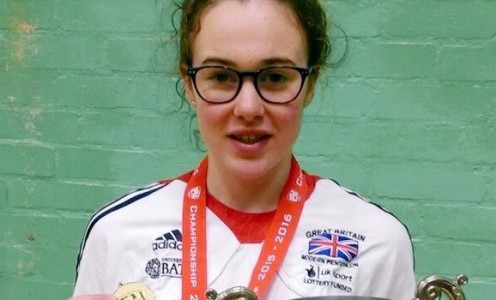 A series of strong performances from talented all-rounder Eilidh Prise saw the University of Bath sporting scholar win gold at the Ladies' BUCS Modern Pentathlon Championships.
The Mathematics student, supported by a Bill Whiteley Scholarship, was the top performer in the fencing, swimming and combined run/shoot as she finished with 5,224 points in total – nearly 1,000 more than her nearest opponent.
Prise – who made her senior UIPM World Cup debut with Pentathlon GB in Egypt last month – won 27 of her 29 fencing bouts, swam 2:19.15 in the pool and clocked a rapid 14:30 for the run/shoot.
The only discipline Prise didn't come top in was the ride, where she picked up 28 jump penalties.
Fellow University of Bath student James Harper was seventh overall in the men's competition, with his best individual performance coming in the pool where he set the third-fastest swim time of 2:10.75.