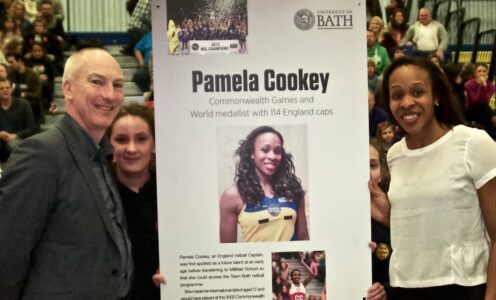 Team Bath Netball legend Pamela Cookey returned to the University of Bath Sports Training Village on Easter Monday for a very special ceremony.
The former England captain, who won five Superleague titles in Blue and Gold between 2006 and 2013, became the latest inductee into the University's Hall of Fame for Sport.
The ceremony took place in front of more than 1,000 netball fans in the Team Bath Arena and thousands watching on Sky Sports during Team Bath's televised Superleague win against Celtic Dragons. 
Cookey, a graduate of the University, was presented with the award by Director of Sport Stephen Baddeley and became the first netballer to join names such as Olympic and Paralympic medallists Jason Gardener, Amy Williams, Heather Stanning and Ben Rushgrove in the Hall of Fame.
"Pamela has all the attributes to enter our Hall of Fame," said Baddeley. "She played with passion and skill both for Team Bath and England and was a stand-out player globally.
"During her playing career, despite her netball commitments and holding down a full-time job, she always had time to contribute to our environment beyond the court."
The prolific shooter was first spotted as a future star at an early age and transferred to Millfield School so that she could access the Team Bath netball programme.
Team Bath's current Director of Netball Jess Thirlby said: "Pam has been a huge part of my own netball journey, firstly as a team-mate, friend and latterly in a coaching role.
"There are only a few people whom I feel deserve the superlative of 'legend' and Pamela certainly is one of them both for Team Bath and her country."
A precocious talent, Cookey would have made her Commonwealth Games debut as early as 2002, aged 17, but for a knee injury.
She went on to have an illustrious career with England, having previously represented her country at U17 and U19 level, and won 114 senior caps – several of them as captain – before retiring from international duty in September.  She plays currently for Surrey Storm in the Superleague.
She won bronze medals at the 2011 and 2015 Netball World Cups, as well as the 2006 and 2010 Commonwealth Games, and helped England record a historic 3-0 Test series win against Australia in 2012. 
Cookey has also played in the world's top league – the ANZ – for Northern Mystics of New Zealand and last year won the Superleague with Storm.
"Pamela was a star in the ANZ league," said former Team Bath Director of Netball and New Zealand netball captain and coach, Lyn Gunson – herself a member of the Hall of Fame for Sport.
"She also pulled off two amazing comebacks in her career from serious injury and that shows not only the calibre of the player but also of the person."
While playing in the Blue and Gold of Team Bath, Cookey was always keen to support the University and the netball franchise with multiple appearances and school visits.
Click here for more information about the University of Bath Hall of Fame for Sport