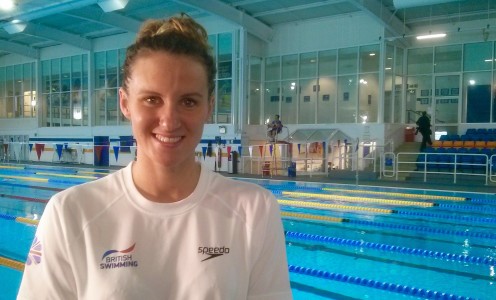 Jazz Carlin struck gold and student Jay Lelliott won bronze during an encouraging opening day for University of Bath-based swimmers at the British Swimming Championships and Olympic Trials in Glasgow.
Carlin, one of many British Swimming National Centre Bath athletes in action at the Tollcross International Swimming Centre this week, was victorious in a hard-fought 200m freestyle final.
Just two seconds separated the front five, with Carlin being pushed all the way by Eleanor Faulkner and Georgia Coates before touching the wall first in 1:57.62.
That was outside the Olympic qualification time but it was a good start to the week for Carlin, whose strongest events – including the 800m freestyle on Wednesday – are yet to come.
"I have a lot of experience but I still get nervous and anxious before I race, so to come away with a win tonight is a great start to the week," she said.
"It's the Olympic Trials and I would love to qualify for my first Olympics, so it's a really exciting week but there is obviously a lot of pressure as well.
"I'm taking things one step at a time. I obviously have dreams and hopes but hopefully this week I will be able to get on that plane to Rio."
Sports Performance student Lelliott, part of Mark Skimming's training group at the University, also began a busy week on the podium after finishing third in the 400m freestyle final.
World University Games champion Lelliott, supported by a Santander Sports Scholarship, clocked 3:47.68 in a race won by James Guy, who set the Olympic qualification time. Stephen Milne was runner-up.
A high-quality men's 100m breaststroke final saw Chemical Engineering graduate Andrew Willis and Charlie Attwood – both coached by Dave McNulty and Graeme Antwhistle at the National Centre Bath – finish fifth and sixth respectively, just ahead of Sports Performance graduate Michael Jamieson.
Victory went to triple World Champion Adam Peaty. All of them will be in action again on Friday in the 200m breaststroke, which is Willis's specialist event.
Among the other University of Bath-based rowers racing on the opening day were Matthew Johnson, who was 14th overall in the men's 400m freestyle; Anne Bochmann, who was 11th overall in the women's 200m freestyle; and International Development with Economics student Emily Siebrecht, a Santander Sporting Scholar who was 15th in the women's 400m IM.
Lily West also competed in the latter discipline and finished seventh in the Tokyo Target final, open to swimmers who are considered to have potential for the 2020 Olympic Games.
The British Championships continue until Sunday. Tickets for the British Swimming Championships are on sale at https://www.ticketmaster.co.uk/feature/british-swimming or you can follow the action live at www.britishswimming.org.