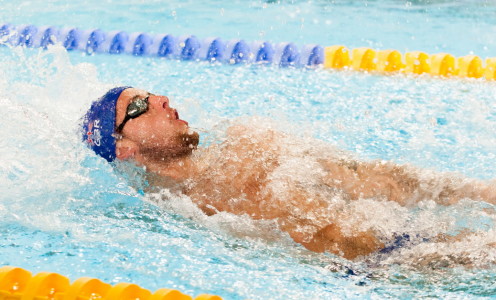 There was a medal of each colour for University of Bath-based swimmers on day two of the British Swimming Championships and Olympic Trials in Glasgow.
Chris Walker-Hebborn (pictured) won a fourth successive gold in the men's 100m backstroke, although it was a victory tinged with disappointment as he narrowly missed out on the time needed to guarantee a place at the Rio 2016 Games.
Fellow London 2012 Olympian Lizzie Simmonds, who also trains with the British Swimming National Centre Bath, was runner-up in the equivalent women's race and Sports Performance student Jay Lelliott won his second bronze medal of the week, this time in the 200m butterfly.
Walker-Hebborn, part of the British 4x100m mixed medley relay team that won World gold last year, clocked a winning time of 53.73 in his final – just outside his target of 52.99. He now has to wait and see whether he will be selected for Team GB.
"I am happy to come away with the win and will try to look at the positives but there is a lot to work on and it is time to reassess," said Walker-Hebborn, who is coached by Dave McNulty and Graeme Antwhistle.
"I was definitely too tense going in, I got caught up in the moment and didn't swim my own race. That's not always a bad thing but it's something I've got to try and work on.
"I lost my legs in the last 25m. I don't know if that was the occasion or my fitness. A lot of things are up in the air but hopefully I'll come back swinging."
Training partner Joe Hulme was sixth in 55.47.
Simmonds won silver in the women's 100m backstroke final in a time of 1:02.00, with victory going to Commonwealth and European champion Georgia Davies.
Santander Sports Scholar Lelliott, fresh from winning 400m freestyle bronze on the opening day, again had to settle for third place in a mighty-close 200m butterfly final.
Just three-tenths of a second separated the podium places, with Adam Mallett coming through in the closing stages to pip Mark Szaranek and Lelliott – coached by Mark Skimming – to gold in 1:58.02. Matthew Johnson was sixth in 1:59.94.
Thursday's action sees Jazz Carlin going for her second gold of the week in the 800m freestyle – she was the fastest qualifier in Wednesday's heats. Her final starts at 6.30pm.
The British Championships continue until Sunday. Tickets for the British Swimming Championships are on sale at https://www.ticketmaster.co.uk/feature/british-swimming or you can follow the action live at www.britishswimming.org.