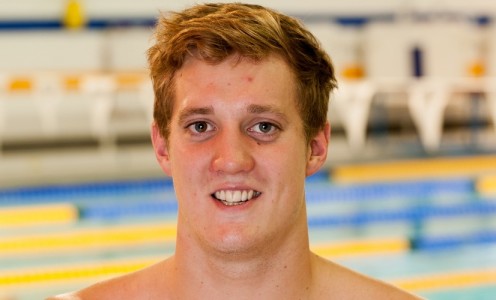 Andrew Willis beat a world-class field and set the Rio 2016 Olympic qualification standard during a golden night for University of Bath-based swimmers at the British Swimming Championships in Glasgow.
Chemical Engineering graduate Willis produced a brilliant swim in his specialist 200m breaststroke event, while fellow British Swimming National Centre Bath athletes Siobhan-Marie O'Connor and Lizzie Simmonds won the 100m freestyle and 200m backstroke respectively.
Willis is a finalist at every major international championship since 2010, including the London 2012 Olympics, but knew he faced an immense challenge to qualify for Rio in a field which also included triple World Champion Adam Peaty, World 100m bronze-medalist Ross Murdoch and Olympic silver-medalist Michael Jamieson.
Peaty went out hard from the start and turned first but Willis, coached by Dave McNulty and Graeme Antwhistle, sat on his shoulder and at the halfway point made his move.
He went on take the gold medal in 2:08.08, which is under the Olympic consideration time, meaning a second Games now awaits.
"It means so much to me," said Willis. "I don't know what to think really. I wanted it, I knew I had to stick to my own plan so I'm dead happy.
"It's great to beat those guys tonight, I thought Ross might be a bit closer near the end but it is so hard.
"It's such a great feeling and that is only going to help us, especially as a nation, to progress at the big meets as well."
Sports Performance graduate Jamieson was fifth, while current National Centre Bath swimmer Charlie Attwood was runner-up in the Target Tokyo final for aspiring 2020 Olympians.
O'Connor got her British Championships campaign off to a winning start as she retained her 100m freestyle title in 54.18.
"I've been watching the racing and I've enjoyed cheering everyone on but it was good for me to be the one racing today," said O'Connor, who races in her specialist event, the 200m individual medley, on Saturday.
"I'm happy with that 100m free and it's great to see what Andrew just did, that was amazing."
University of Bath student Anna Hopkin, part of Mark Skimming's training group, followed up her superb silver in the 50m freestyle by finishing a fine fourth behind O'Connor – just five-hundredths of a second off another podium place.
Simmonds upgraded her silver in the 100m backstroke to gold over 200m after a dominant second half to Friday's final, which she won in 2:09.24.
"I am pleased with that swim, it was a real solid performance from me," she said. "I stuck to my race plan and it was a definite step in the right direction from the 100m earlier in the week.
"There is a lot of pressure at this event, it is a different atmosphere. I would have liked to have gone a bit quicker but I am pleased with the performance."
Natural Sciences student Shauntelle Austin, a Bill Whiteley Sports Scholar, was fifth in the Target Tokyo final.
University of Bath-based swimmers have now won ten medals –six of them gold – at the British Championships, which continue on Saturday and Sunday.
The Team GB swimming squad for the Rio 2016 Olympic Games will be announced at the University of Bath Sports Training Village on Thursday (April 21).