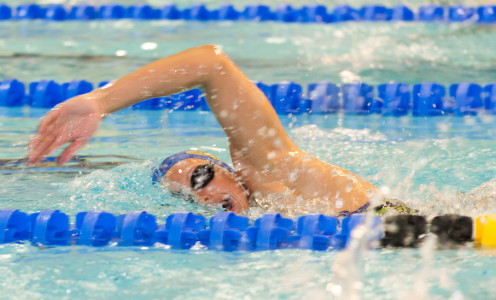 Jazz Carlin and Siobhan-Marie O'Connor are set to join fellow University of Bath-based swimmer Andrew Willis at the Rio 2016 Olympic Games after a super Saturday at the British Swimming Championships in Glasgow.
Both Carlin and O'Connor, who train with the British Swimming National Centre Bath, set the Olympic consideration time for their events as they won gold in the 400m freestyle and 200m individual medley respectively.
It was third time lucky for Carlin, who has also won freestyle gold over 200m and 800m this week but missed out on the guaranteed qualification time.
"It was my last event and I wanted to put everything into it," said Carlin, who touched the wall in 4:04.33. "It was a great race and a strong field, I am absolutely over the moon.
"I have put pressure on myself and I wanted to do my best. I have been trying to relax and think about the race. I tried to remember back to when I was a little girl, I just used to race."
While Carlin is heading for her first Olympic Games, training partner O'Connor is set for her second after controlling the 200m IM final throughout to win in 2:09.66.
"I have just tried to come in and be really relaxed – it is good to have nerves but sometimes too many nerves can be a detriment," said O'Connor, who is coached by Dave McNulty and Graeme Antwhistle.
"I have tried to really relax and focus on all the hard work I have done. I wanted to get a little bit closer to my best so I have few things to work on.
"It was absolutely amazing to win a World medal [in this event] last year and that gave me a lot of confidence. It is going to take a lot of work to better that."
O'Connor, who also won 100m freestyle gold on Friday, will be going for two more medals on Sunday as she contests both the 100m breaststroke and 100m butterfly.
Joe Hulme is also back in the Tollcross International Swimming Centre pool on Sunday in the 200m backstroke, a day after showing his 2020 Olympic Games potential by winning the Target Tokyo men's 200m IM final in 2:02.23.
Mechanical and Electrical Engineering student Miles Munro, part of University Head Swimming Coach Mark Skimming's training group, has also had a good week in Scotland and reached the main final of the 50m freestyle, finishing seventh in 22.77.
There was disappointment for training partner Jay Lelliott, though, as he had to withdraw from the 1,500m freestyle final due to illness. The Sports Performance student and Santander Sports Scholar was looking for a third medal, having won bronze in both the 400m freestyle and 200m butterfly.
The British Swimming Championships conclude on Sunday, with Team GB announcing the Rio 2016 Olympic squad at the University of Bath Sports Training Village on Thursday.
Click here to watch the live stream of Sunday's racing on the British Swimming website