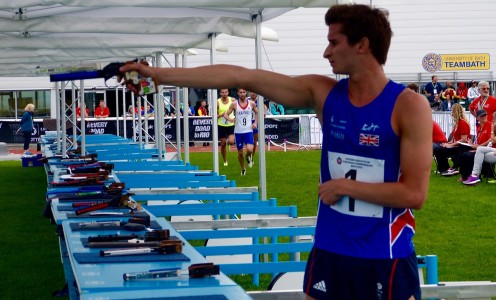 Pentathlon GB's Jamie Cooke produced a fantastic all-round display to claim his third career World Cup victory in Kecskemét, Hungary on Sunday.
Freyja Prentice, Kate French and Samantha Murray all recorded top-ten finishes in the women's competition during a highly-encouraging weekend for the British pentathletes, whose national training centre is based at the University of Bath.
Cooke was in the top three throughout the men's final and headed into the combined run/shoot five seconds behind France's Gauthier Romani and three behind home favourite Adam Marosi, the London 2012 Olympic bronze-medalist.
Sub nine-second shoots on his first and third visits to the range put Cooke into the lead and he was able to hold onto his advantage to secure gold – GB's first World Cup medal of the Rio 2016 Olympic season.
Pentathlon GB Performance Director Jan Bartu hailed Cooke's 'awesome performance', adding: "From the start of the day everything was positive.
"It is great to have won a World Cup in Hungary but now we need to move on. We need to take encouragement from this performance but not think the job is not done yet."
Cooke's 200m freestyle time of 1:58.32 was the quickest in the pool and 19 wins in the fencing salle kept him firmly in contention going into the riding discipline.
The horse Cooke was allocated had produced three refusals in its first time around the course with Russian athlete Ilia Frolov but the Brit only knocked one pole down and picked up 288 pentathlon points.
Bartu was full of praise for both Cooke and his coach Marian Gheorghe after the ride, saying "The coach and athlete did a very good job in the warm-up."
In the women's final on Saturday, Prentice produced a strong run/shoot to move up from 20th to seventh overall – just a fraction of a second ahead of team-mate French.
Former World Champion Murray battled through stomach problems which had threatened her participation to finish a further second behind her fellow Brits in ninth but there was disappointment for Francesca Summers, who had to withdraw halfway through the day with a knee injury.