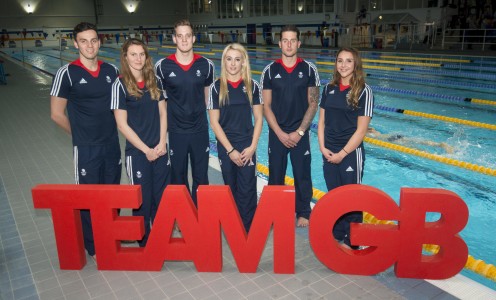 The road to Rio once again passed directly through the University of Bath today as Team GB officially announced their swimming squad for this summer's Olympic Games at the Sports Training Village.
The team includes four British Swimming National Centre Bath athletes who train in the London 2012 Legacy Pool – Jazz Carlin, Siobhan-Marie O'Connor, Chris Walker-Hebborn and Andrew Willis.
They were joined at the STV for the announcement by several other members of the 26-strong squad, as well as British Swimming Head Coach Bill Furniss and National Performance Director Chris Spice.
Carlin, O'Connor and Willis all booked their places in Rio by setting the Olympic consideration time while winning 400m freestyle, 200m individual medley and 200m breaststroke gold respectively at last week's British Swimming Championships.
Walker-Hebborn narrowly missed out on the automatic qualification time in the 100m backstroke but has been selected to contest that event for a second successive Olympic Games.
"There's a little bit of relief," said Walker-Hebborn, who has trained in Bath since 2009. "It wasn't the best meet for me but I got my hand on the wall first and I think I've shown my consistency over the past few years.
"It didn't happen for me at Trials, and there are a few reasons behind that, but they have picked me for the team and clearly believe in my abilities.
"It's pretty cool having the team announcement at our home pool and I'm really happy for the guys who have made it – I'm glad to be on the team with them."
O'Connor and University of Bath Chemical Engineering graduate Willis also competed at London 2012, while Carlin – who moved her training base to Bath 18 months ago – will make her Olympic debut.
"I can't keep the smile off my face, I am just so happy to get that confirmation that I am on the Olympic team and on the plane to Rio," said Carlin, who failed to make the team in 2012 after her preparations were disrupted by illness.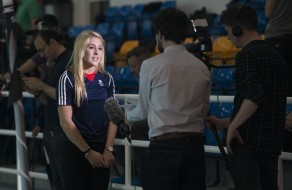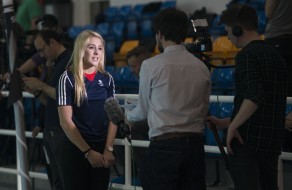 "Four years ago I really couldn't have expected that I would be going to an Olympic Games. I remember watching on the sidelines and thinking I don't want to miss out again. It was tough to watch but it gave me that motivation to keep going and carry on. It's an incredible feeling."
Carlin, O'Connor and Walker-Hebborn all won medals at the 2015 World Championships in Russia, while Willis – who finished fourth at that event – has raced in every major international final since 2010.
He won a world-class 200m breaststroke final in a lifetime best time to seal his Rio 2016 place and said: "It's exciting and still slightly surreal – if you'd asked me if I thought I would ever qualify for two Olympics I would have said no.
"I'm just really happy. It's been a tough year but a good year, I feel like I have really stepped up in every aspect and I didn't want that work to end at the trials, I wanted to carry on as part of Team GB."
O'Connor, winner of two World and six Commonwealth medals in the past two years, said: "I obviously really wanted to go to Rio but it was hard to get excited about it before I had definitely booked my ticket on the plane.
"The Trials are really tough – it's one race, one shot. You have to make sure you perform and I'm glad I did that. I'm over the moon to be going to Rio, I can't wait."
The four swimmers, all coached by David McNulty and Graeme Antwhistle, are the first University of Bath-based athletes to be formally selected for this summer's Olympic Games.
University of Bath Director of Sport Stephen Baddeley said: "We are delighted for the swimmers selected for Rio and to see the hard work they've put in here at the Sports Training Village delivering such justified rewards.
"We are looking forward to supporting them during the critical weeks ahead as they prepare for the Olympic Games.
"We are proud of our partnership with British Swimming and the National Centre is a key part of our thriving high-performance environment.
"It has also been a pleasure to host Team GB for this team announcement and we wish all of the selected swimmers success in the coming months."
Natural Sciences graduate Alexandra Rickham, a bronze-medalist at London 2012, was named last month in the sailing squad for the Rio 2016 Paralympic Games.