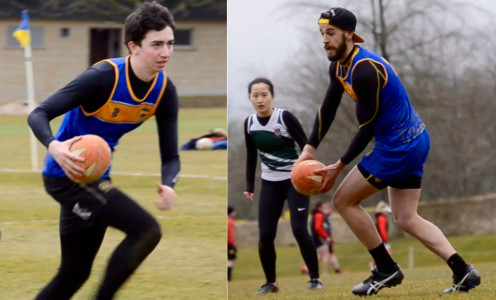 Three University of Bath students have been selected to represent their countries at this summer's European Touch Rugby Championships in Jersey.
Dom Tripp and Will Serocold (pictured) have retained their places in the England Men's Open squad, while Education with Psychology first-year student Dan Roberts is set to make his senior debut for the Wales Men's Open team.
Sport & Exercise Science student Tripp is currently on a placement year in Australia where he has become the first Englishman to play in the National Touch League – the biggest domestic touch competition in the world.
He will return to the UK just in time for the European Championships, where England will be looking to retain the title they won two years ago when Tripp played a starring role in the final.
Serocold, the current University of Bath Rugby Club touch coordinator, was a reserve for that tournament but made his senior debut at last year's Touch World Cup in Australia where the England Men's Open team finished tenth overall.
"That was pretty disappointing, we had a tough group but still feel like we could have performed better – so everyone is going into the Euros looking to prove a point at the start of the next World Cup cycle," he said. "We want to get off on the right foot as we build towards Malaysia in 2019.
"I was always sporty as a kid and dreamt about playing for England. When I realised it wasn't going to work out for me in rugby union, I started focusing on touch a bit more and it has all gone from there.
"Winning my first England cap last year was unbelievable and I'm just glad I've been able to back it up and get in the squad again for a second year. Hopefully I can make myself a permanent fixture in the squad moving forward."
Serocold, supported by the University's Dual Career programme, is studying Sports Performance and believes his international progress has been helped by what he has learnt on the course.
"Everything that I do academically is focused towards touch in particular," he explained.
"We had a module this year that was all about planning and managing your training, so my assignment was basically to design a year-long training programme which I've been able to use. It's really helpful.
"Lectures on things like nutrition and strength & conditioning have also taught me so much about ways I can improve my training and change what I do to ensure I get the most out of myself."
Roberts, meanwhile, is looking forward to his first senior international competition after helping the Wales Mixed U18 side win the Junior Touch Championships last August.
"I was actually training for the mixed open team but got offered a place in the men's squad, which I was very happy to take," he said.
"Touch is getting huge now, in Wales especially. When I started three or four years ago there was just the occasional social league, now you can play touch every day somewhere."
As well as play the sport, Roberts and Serocold also coach teams at the University of Bath where the non-contact sport is thriving.
"Touch is well suited to university level as it can be played by men and women together, and is such a great social sport," Serocold added.
"It's really well suited for anyone who is athletic as so many skills from other sports are transferrable. Last year we had some really good netball players who didn't drop a ball the whole season!"
For more information on touch rugby at the University of Bath, visit https://www.bathstudent.com/sport/clubs/rugby/
Thanks to Matt Rogers for the pictures of Dan Roberts (left) and Will Serocold (right) in action for the University of Bath touch rugby team