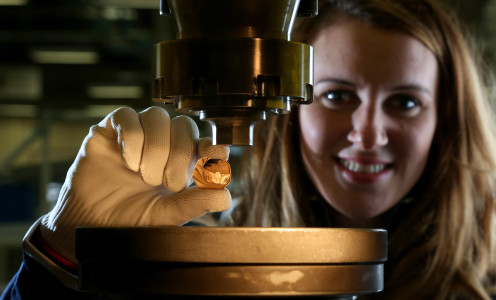 With 100 days to go until the 2016 Olympic Games, University of Bath-based swimmer Jazz Carlin can say she has already struck Rio gold.
Carlin, part of the British Swimming National Centre squad at the Sports Training Village, was invited by The Royal Mint to mark the 100-day countdown by striking an official Team GB gold-edition 50p coin.
It comes a week after the Commonwealth champion was officially selected by Team GB for this summer's Games in Brazil, along with team-mates Siobhan-Marie O'Connor, Chris Walker-Hebborn and Andrew Willis – the announcement took place at their home pool at the University of Bath.
Carlin said: "I am honoured to have been invited to The Royal Mint to strike the official Team GB gold edition 50p coin. I am delighted to have qualified for the Olympic Games and am looking forward to competing with the rest of Team GB athletes in Rio this summer."
Anne Jessopp, The Royal Mint's Director of Commemorative Coin, said: "We are thrilled to be able to show our support for Team GB in this way, and celebrate the talent, dedication and Olympian spirit of the athletes chosen to represent us in what we hope will be yet another piece of Great British sporting history for the team."
Click here for more information about the commemorative coin (external link) and here for more about the University of Bath-based athletes and coaches bidding for Rio 2016 selection.
Thanks to Geoff Caddick/PA Wire for the picture of Jazz with the commemorative 50p coin