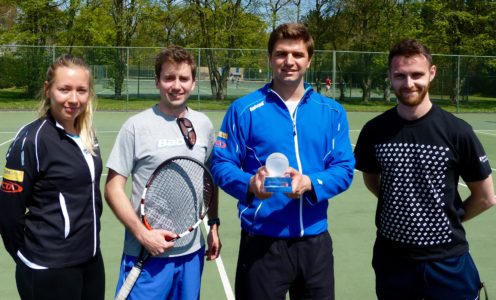 The University of Bath is through to the national final of the Lawn Tennis Association's Aegon British Tennis Awards after being named as Education Venue of the Year by the South West LTA.
The honour – which follows on from success in the same category at the Avon LTA County awards – recognises the outstanding work of Team Bath Tennis coaches in enhancing the student experience at the University, as well as taking the sport into primary and secondary schools throughout the region.
Andy Trott, South West LTA Education Officer, said: "Team Bath has an incredibly professional team of motivated and driven people who want to make British tennis better.
"They are working really well with the LTA, Tennis Foundation and other partners to attract funding and opportunities to improve access to tennis at the University of Bath.
"There are also plans to create an innovative new workforce programme to identify and train new student players."
The two-tier coaching programme at Team Bath Tennis – one of just four LTA International High Performance Centres in the UK – has engaged around 400 students and more than 1,400 schoolchildren in the sport during the past year.
Tennis players have access to both indoor and outdoor courts at the University, with work about to start on upgrading the outdoor facilities to provide both performance hard courts and all-weather surfaces.
Barry Scollo, Director of Tennis at the University of Bath, said: "That will allow students to train and play all the way through winter.
"The work is being done thanks to investment from the University of Bath, South West LTA and Avon County LTA. We are grateful for their support and always looking to build even stronger links going forward.
"Thanks to Andy and Simon Johnson at South West LTA, Alistair Higham at the Tennis Foundation and Ian Alexander, Clive Sampson and John Fuller at Avon County LTA for helping to drive this project."
Scollo also praised Head of Club Coaching Matt Smith, University Tennis Coordinator Alex Walker and the rest of his coaching staff for their award-winning efforts to grow the sport.
"Thanks to Matt, Alex and all the team for the work they have done over the year," he said. "It has been a great team effort across the participation and performance programmes."
The national final of the Aegon British Tennis Awards will take place on June 25.
For more information about tennis at the University of Bath, visit http://www.teambath.com/sport/tennis/
Pictured are (from left) Alex Walker, Matt Smith, Barry Scollo and South West LTA Education Officer Andy Trott