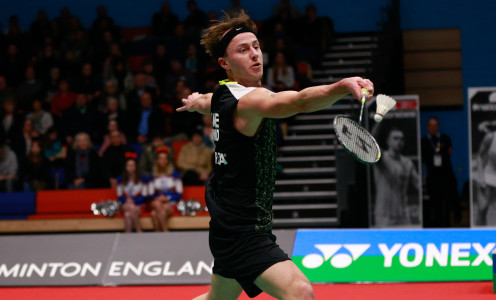 University of Bath sporting scholar Alex Lane is celebrating his first senior international call-up after being named in the Badminton England squad for next month's Thomas Cup in China.
The competition – also known as the World Men's Team Championship – is regarded as the biggest badminton event outside of an Olympic Games and features the world's leading players.
Host nation China has won the title nine times, a record only bettered by Indonesia, and Lane cannot wait to make his England debut in a country where badminton is immensely popular.
"I'm really looking forward to it," he said. "I've played loads of time for England as a junior but this will be my first senior cap and it's about the biggest tournament you can get as well, especially as it will be in China."
Lane, a Trendell Sports Scholar, is coming to the end of his first year of combining playing and training with studying for a Sports Performance degree.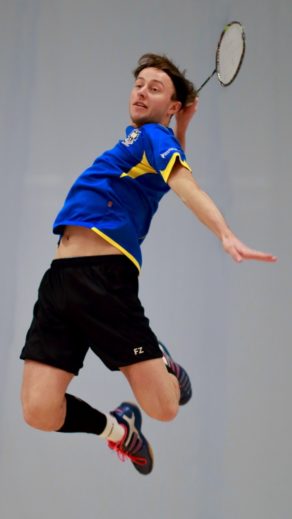 And he says the move to the University of Bath, where he is coached by Pete Bush, has certainly benefited him so far. As well as his England call-up, Lane has reached his first senior men's final at the English National Championships and won individual gold at the BUCS [British Universities & Colleges Sport] Nationals.
"I took two years out after college to train full-time but I wasn't really enjoying it so I decided to go back to my studies and come here to the University of Bath," explained Lane, Team Bath's athlete of the month for February.
"It's been a really good season so far and it's nice that change hasn't affected my ability to play at the highest level. I actually feel there is a lot less pressure on me, even with my studies, and I feel like I'm enjoying it a lot more and improving a lot more.
"Pete and I get on really well, he makes training fun and enjoyable, and the Scholarship and Dual Career programme really helps me manage my studies and sport."
Lane – whose mother, Sue Louis, was a Commonwealth Games team champion in badminton – enjoyed another positive performance recently when he flew to the Netherlands to compete in the Victor Dutch International.
He beat Germany's David Peng 21-14 21-11 and Adel Hamek of Algeria 21-15 21-12 to reach the quarter-finals where he was beaten 21-12 21-18 by Scotland's Kieran Merrilees, who is in contention for the Rio 2016 Olympic Games.
The Thomas Cup will take place in Kunshan, China from May 15-22.