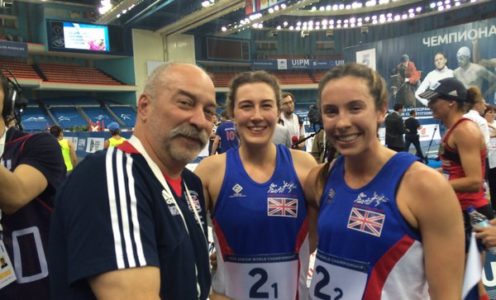 Samantha Murray and Joanna Muir gave Pentathlon GB an encouraging start to this week's World Championships in Moscow, Russia as they won silver in the women's relay competition.
The British duo sat in the top three throughout and managed to overhaul a 32-second deficit going into the combined run-shoot to beat the host nation to second place behind a strong Germany combination featuring reigning individual World Champion Lena Schoneborn.
Pentathlon GB Performance Director Jan Bartu said: "It was a very positive start and not just for the girls competing, hopefully there will be a positive vibe throughout the whole team.
"We didn't have great expectations for this relay competition, we just wanted to brush off any anxiety ahead of the individual competition."
The day started in the pool where senior World debutant Muir and 2014 World Champion Murray's time of 2:04.24 was the second quickest behind Russia.
Seventeen victories and 19 defeats in the fencing ranking round saw them slip to third overall but victories over Mexico and Germany in the bonus round meant the Brits picked up two extra points to finish the morning strongly.
A perfect round in the ride saw the duo pick up the maximum 300 points, moving them back up to second position ahead of the combined event – 32 seconds behind leaders Russia but just eight seconds ahead of Italy in fifth.
University of Bath Sports Performance graduate Muir took the first leg of the combined event, slipping behind Germany's Annika Schleu but gaining significant time on the Russians and reducing the deficit to just 12 seconds at the changeover.
London 2012 Olympic silver-medallist Murray, a Politics & French graduate, then continued her team-mate's good work to overhaul Russia and move up to second overall.
Muir and Murray will be competing again on Thursday alongside Kate French and Freyja Prentice in the Women's Individual Qualification.
Tuesday will see the Men's Relay taking place, with Joe Evans and Sport & Exercise Science student Tom Toolis representing Great Britain.
Jan Bartu tweeted the above picture of relay silver medallists Joanna Muir and Samantha Murray with head women's coach Istvan Nemeth