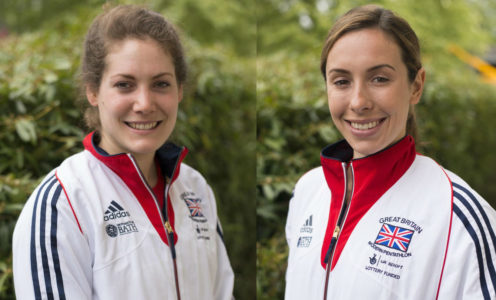 Pentathlon GB's Samantha Murray and Kate French endured a frustrating day at the Modern Pentathlon World Championships in Moscow as they finished 16th and 24th respectively in the women's individual final.
Both University of Bath-based athletes had been well placed during periods of the day, with 2014 World Champion Murray fourth going into the final event – the combined run/shoot.
However, despite some strong running, she lost ground to her rivals at the shooting range and dropped down the field.
French was four seconds slower than her semi-final time in the swimming pool but looked to be recovering well during a lightning start to the fencing round, which saw her sit joint first with Murray after five rounds. However, both struggled in the middle stages.
An extremely accomplished performance on a tricky horse saw French knock down just a single pole in the ride, with the 293 points she gained seeing her start the combined event a minute behind the leaders in 19th place.
Pentathlon GB Performance Director Jan Bartu said: "Kate did not look her usual self today. She struggled throughout, so we'll have to find out what was going on and move on from this experience.
"Kate was suffering from illness in the build-up so it may be that she was still suffering some residual infections."
Bartu added that Murray's competition simply "came down to one shoot" after being well placed following good performances in each of the first three disciplines
"This was Sam's best swim performance in a year and although the fencing could have been better she did really well. One knockdown in the ride was acceptable but unfortunately the tough nature of the combined event doesn't allow you to stay in contention with one bad shoot and she dropped away from the leaders.
"We still have a lot to do and perhaps this competition as a whole is a bit of a wake-up call for everyone involved – athletes, coaches and support staff. We now look forward to the Olympic Games and I'm still confident we have the potential to do well."
Both Murray and French have already achieved the Olympic qualification standard and must now wait to see if they are selected for Team GB, with the announcement on June 8.
Saturday will see the in-form Jamie Cooke compete as the sole British representative in the men's individual final.