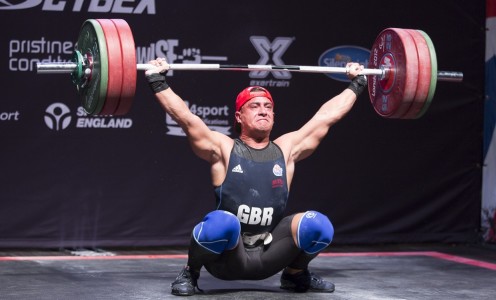 Weightlifter Sonny Webster has today been selected by Team GB for the Rio 2016 Olympic Games – just 24 hours after graduating from the University of Bath.
Webster, who completed his three-year Sports Performance course this summer, will make his Olympic debut in the men's 94kg division after being crowned as British Champion in that weight category earlier this month.
The 22-year-old is one of only two weightlifters in the Team GB squad and will be joined in Rio by Rebekah Tiley, who will contest the women's 69kg division.
"The Olympics is undoubtedly the biggest stage for the sport and to be given the opportunity to represent my country in Rio this summer is something I'm incredibly proud of," said Webster, who is coached by Andy Sutor at the Empire Sports Club in Bristol.
"I've been training well and my recent performance at the British Championships has given me a fantastic platform to build on. The next few weeks of preparation are absolutely crucial and I'll be doing all that I can to get the best possible result for the team in Rio."
Tommy Yule, Weightlifting Team Leader and British Weight Lifting performance director, added: "I'm very proud of both Rebekah and Sonny and their efforts in getting selected to represent Team GB in Rio this summer.
"Both have been progressing really well; Rebekah winning senior medals both at the Europeans in April and last month's British Championships, and Sonny also setting new British under 23 records and achieving personal bests in what was the final competition before the Games.
"Our focus is now on maintaining and building on their progress over the next few weeks, to give both athletes the best chance of performing in Rio."
Commonwealth champion Zoe Smith, who does some of her training at the University, misses out through injury.
Other University of Bath graduates to have been officially selected for the Olympic and Paralympic Games so far are Heather Stanning (rowing), Heather Olver (badminton), Alexandra Rickham (sailing) and Louise Hunt (wheelchair tennis).
Athletes who train at the University to have been selected so far are Joe Choong, Jamie Cooke, Kate French and Samantha Murray (modern pentathlon); Jazz Carlin, Siobhan-Marie O'Connor, Chris Walker-Hebborn and Andrew Willis (swimming); Ben Fletcher (judo); and Paul Blake (athletics).
Thank you to British Weight Lifting for the picture of Sonny Webster