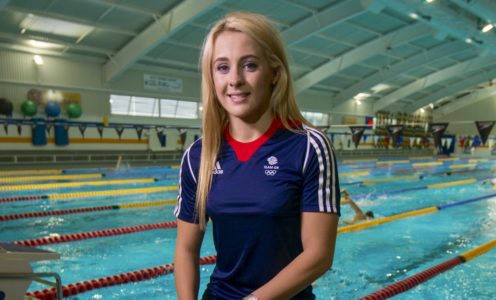 University of Bath-based swimmer Siobhan-Marie O'Connor smashed the British 100m breaststroke record on her last competitive outing before the Rio 2016 Olympic Games.
Swimming at the Scottish National Open Swimming Championships, the 20-year-old dominated throughout and touched the wall in 1:06.34 – beating the previous record set in the same Tollcross International Swimming Centre pool by Sophie Taylor during the Glasgow 2014 Commonwealth Games.
O'Connor admitted she was surprised by the time, especially as she is currently in an intensive training period with the British Swimming National Centre at the London 2012 Legacy Pool in Bath.
"I am over the moon with that," said O'Connor, who also won the 200m individual medley in Glasgow.
"I've worked really hard and I thought this week I'd be a bit flat, a bit sluggish but I felt really good there. My breaststroke has come on a lot and I've done a lot of work on technique and that really shows.
"I'm surprised and really happy, and with this being my last competition before Rio it's a good place to be."
O'Connor's Rio-bound team-mates Jazz Carlin, Chris Walker-Hebborn and Andrew Willis completed their pre-Olympic racing programme with a visit to the French Open in Vichy.
Willis, a University of Bath Chemical Engineering graduate, won the 200m breaststroke in 2:12.34 and was sixth in the 100m breaststroke in 1:02.73.
Carlin was fastest in the 800m freestyle, clocking 8:24.59, and then won the 400m freestyle final in 4:05.37. She was also fourth over 200m in 1:59.44
Walker-Hebborn was runner-up to home favourite Camille Lacourt in both the 50m and 100m backstroke, in 25.31 and 54.92 respectively.