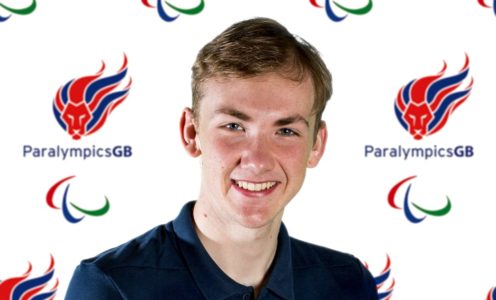 Piers Gilliver – the world's number-one ranked wheelchair fencer – today became the latest University of Bath-based athlete to be selected for the Rio 2016 Paralympic Games.
The 21-year-old has enjoyed tremendous success during the past two years, winning nine medals in 12 international competitions – including three back-to-back World Cup titles – to comfortably finish top of the epee qualifying rankings.
"I am so happy to be part of the ParalympicsGB team for Rio 2016," said Gilliver, who is joined in the wheelchair fencing squad by Dimitri Coutya.
"Many years of hard work has gone towards achieving this goal and I'm pleased that all the hours of training have paid off.
"I'm going to make every second count before I head out to compete in Rio as it's going to be the biggest competition of my career so far. I hope the nation will supercharge the team to personal best performances – their support will make all the difference."
Gilliver, whose lead coach is Peter Rome, started training full-time at the Sports Training Village in April 2015 after receiving funding from UK Sport's World Class Programme.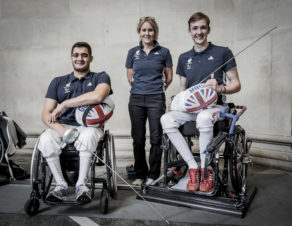 He has sparring sessions with Bath Sword Club and also trains with the Pentathlon GB athletes as they prepare for this summer's Olympic Games.
"I definitely feel I am learning a lot from them," Gilliver added. "It's great sparring but it's also a great atmosphere being part of this elite group. We are all working together towards the same goal – that gold medal in Rio."
Gilliver, from the Forest of Dean, is the second University-based sportsman to be officially selected by ParalympicsGB for this summer's Games and joins athletics World Champion Paul Blake, coached by Rob Ellchuk, in the Rio squad.
Stephen Baddeley, Director of Sport at the University of Bath, said: "Congratulations to Piers on this fantastic achievement. He has been top of the world rankings throughout his time here, so it is great he can finally say he has been officially selected.
"Piers has quickly become a popular member of the Team Bath family and we will all be cheering him on as he goes for gold in Rio."
University of Bath graduates Alexandra Rickham and Louise Hunt have been selected for the Rio Paralympic Games in sailing and wheelchair tennis respectively.