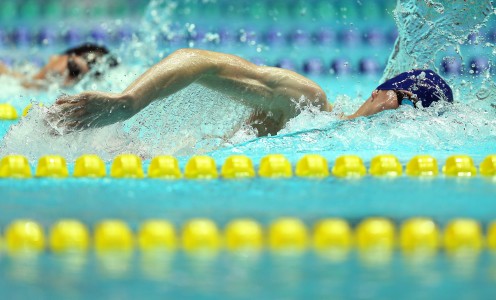 University of Bath sporting scholar Jay Lelliott will make his international open-water swimming debut next week after being selected to represent Britain at the LEN European Marathon Swimming Championships. 
The Sports Performance student will contest both the 5km individual and team events at the championships, taking place at Hoorn in the Netherlands from July 10-14.
It is a new challenge for Lelliott, who has represented Britain in the pool but only tried open-water swimming for the first time this summer.
"This is my senior open-water debut and it's exciting," said the Santander Sports Scholar, who is coached at the Sports Training Village by Mark Skimming.
"I was quite surprised to be picked as I'm untried and tested but I'm looking forward to getting more experience and seeing where it takes me. I'm really grateful for the opportunity."
Lelliott – supported by the Team Bath Dual Career programme – won gold and silver for Britain at the World University Games in 2015 and was hoping to challenge for Rio 2016 Olympic qualification at this year's British Championships.
However, after winning bronze medals in the 200m butterfly and 400m freestyle, he had to withdraw from the 1,500m freestyle final due to illness.
It was while he was recovering from that setback that Lelliott was contacted by British Swimming Marathon Lead Bernie Dietzig.
"Bernie got in touch and said he was keen for me to give open-water swimming a try, so I thought 'why not?'," said Lelliott.
"I went out to a training camp in Majorca – there are worse places to go for your first try at open-water swimming! – and really enjoyed it, it was good fun. I then had a selection race in Ipswich a couple of weeks ago and enjoyed that too, even though it was a lot colder.
"It's really different to what I'm used to and I want to see what I have in the tank."
Lelliott will be joined in the British squad by Caleb Hughes, Danielle Huskisson and Jack Burnell, the latter using the Europeans as preparation for the Rio Olympics.