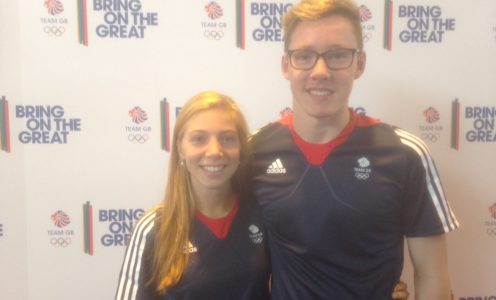 Emerging Pentathlon GB athletes Francesca Summers and Myles Pillage will get to experience the Olympic environment this summer after being selected on the Ambition Programme for the Rio 2016 Olympic Games.
The teenage duo, along with Pathways Manager Stuart Mason, will travel to Brazil next month and visit the world-class facilities of Team GB's preparation camp in Belo Horizonte before flying down to Rio to visit the Olympic Village, British School and British House.
They and other potential Tokyo 2020 Olympians from other sports will also get to see Team GB athletes – including Pentathlon GB's Jamie Cooke and Kate French, who were on the programme at Beijing 2008 and London 2012 respectively – in action during the Games.
World Junior Champion Summers, based at Pentathlon GB's national training centre at the University of Bath, said: "The whole group is really excited to be getting this chance to be part of Rio 2016.
"Not many people get this opportunity so I feel really lucky and grateful to be part of the Ambition Programme.
"Being immersed in the Olympic environment will really help all of us for Tokyo. It's great to be with other athletes and coaches from different sports to your own and seeing what drives and inspires them – you can learn a lot from these people."
The Ambition Programme, which was first launched for Beijing 2008, is designed to replicate a first Games experience for young British athletes and coaches.
Of the 105 athletes on the Beijing 2008 programme, 43 went on to compete at London 2012, winning nine medals across eight sports from the likes of Jonny Brownlee (triathlon), Sam Oldham and Dan Purvis (gymnastics), George Nash (rowing) and Jon Schofield (canoeing).