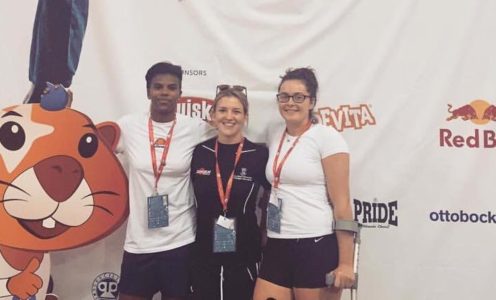 University of Bath students Jemima Duxberry and Chloe Robyns-Landricombe have thanked the Team Bath Dual Career programme for helping them compete at the 2016 European University Games.
Along with fellow students Renz Vallejera and Prisca Awiti-Alcaraz, they gained more international judo experience as they represented Great Britain at the multi-sport event in Croatia.
Robyns-Landricombe, who is studying Sport Performance and finished seventh in the -57kg weight category, said: "I had an amazing opportunity to train in Japan for a month as part of my preparations for the Games, thanks to my scholarship from Thompson Education Trust and being a Dual Career athlete.
"That helped me to finance my preparation and I gained lots of experience, I felt good and strong. I've had a back injury, so when I returned I was very specific with the training I did – doing less judo but keeping my fitness up.
"I was really unlucky in my first fight at the Europeans and lost by a Shido (penalty) in the last 30 seconds but my second fight was much better and I won by ippon, inside 45 seconds according to my friends.
"I was really pleased as it was the first time I had won by ippon that quickly at international level and I realised it really helps to actually listen to your coach [Juergen Klinger].
"In my last fight I lost in the final minute again. Again it was my mistake as I went in the wrong direction and put myself in a weak position, especially with my current injury.
"Losing that fight prevented me for fighting for bronze, which was really disappointing as I felt I had the capability of medalling at this event but too many small mistakes cost me.
"I was still happy with my overall performance as I felt I had really improved from my previous European-level competition. It was an amazing trip, lots of fun, and I learnt loads so definitely worth it.
"I wouldn't have been able to compete without the support from my scholarship and being a Dual Career athlete. It's really helping me progress."
Fellow Sport Performance student Duxberry, supported by a Santander Sports Scholarship, won bronze in the -78kg competition but suffered a severe knee ligament injury in her semi-final which will rule her out of competition for the next few months.
"This was not the end of the competition that I had gone for or hoped for," said the unfortunate judoka, who had just returned from a long-term wrist injury.
"I felt good after my warm-up – although very nervous, I was also excited about fighting. The feeling I get when I am on the mat fighting is indescribable, it is where I feel most comfortable and most confident.
"My first fight was against a French girl who was much taller than me and felt physically strong. I didn't feel like I could throw her but I also didn't feel vulnerable to being thrown myself.
"The fight went the full four minutes with the end score being three penalties to two in my favour. My next fight was the quarter-finals against a Serbian who I threw for Ippon, the maximum score, within the first 30 seconds.
"That put me through to the semi-finals against Brigita Matic, a Croatian fighting on home soil. She is also the Junior World and European Champion and finished just outside the qualification place for the Rio 2016 Olympic Games, so I knew this would be like my final.
"With 20 seconds to the end of the fight I felt stronger, both mentally and physically, compared to my opponent. I was leading and I knew I would be in the final with the chance to become European University Champion.
"Little did I know that in the next exchange my opponent would collide into the side of my knee and snap my MCL and PCL completely, not only taking me out of the competition but taking me out of judo for the next 12 months.
"I wouldn't have been able to fund this event without being a Dual Career athlete and also being on a scholarship, so I can't thank the University enough for helping me attend this event."
Applications for the 2016-17 Dual Career programme are now being taken. Click here for more information.