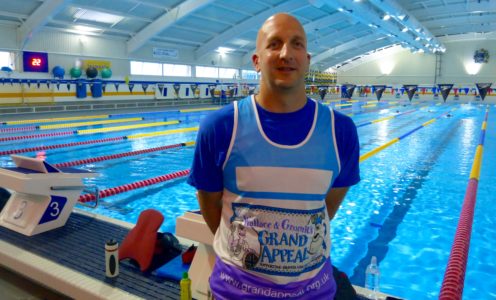 Mark Skimming, head swimming coach at the University of Bath, is used to helping students and athletes reach their peak physical condition.
But this year he has also been training for his own monumental challenge – trekking 6,000m to Everest base camp to raise funds for the hospital that saved his young son.
Albert, now three, was born 13 weeks early and spent his first three months in intensive care after been diagnosed with chronic lung disease. He has since spent a large amount of his life in and out of Bristol Children's Hospital, including his first birthday.
The family's first holiday to Australia in August 2014 was cut short when he began to struggle for breath. While his wife Joy stayed in Australia with Albert, Mark had to fly home, with Albert finally allowed to return five weeks later. Later that year he was rushed to the paediatric intensive care unit (PICU) at Bristol Children's Hospital, where he stayed for five weeks over Christmas and New Year.
To thank the doctors and nurses who have cared for Albert over the years, Mark hopes to raise £10,000 for The Grand Appeal, the Bristol Children's Hospital Charity.
Mark will fly to Kathmandu then on to the small Himalayan village of Lukla where his 18-day adventure will begin. He will be trekking for as long as eight hours a day over difficult terrain, dealing with extreme temperatures and high altitudes.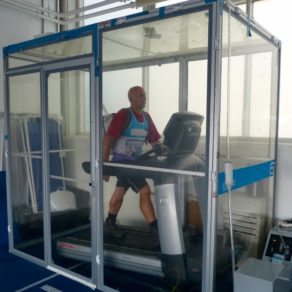 Mark's tough training regime includes increasing his daily steps to the equivalent of 10km a day, as well as daily training walks and weekend cycle rides, all on top of a seven-mile daily cycle to work. He is also undergoing sessions in the University of Bath's altitude chamber to prepare him for the low oxygen levels he will experience during the trek.
Mark said: "Albert is doing really well at the moment and hasn't had a hospital stay since February. He goes to Tumble Tots, rugby tots and swimming lessons and loves being active and playing with the other children. Joy and I are so proud of how much progress he has made in the last two years and I wanted to do something to go some small way towards repaying the amazing staff who have cared for him at Bristol Children's Hospital.
"I have coached a number of Olympic and Paralympic swimmers, as well as the Pentathlon GB athletes competing in Rio this summer, but preparing myself for such a big challenge has been a very different experience. Luckily Albert is all the motivation I need, and he has enjoyed keeping me company on some of my training walks, riding on my shoulders!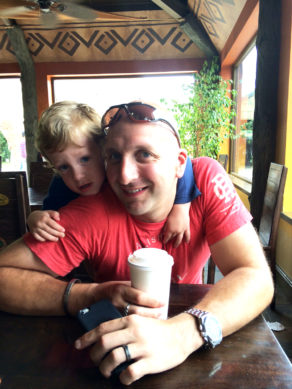 "We estimate Albert's care to date to have cost around £300,000 and his condition means he is likely to need further treatment in the future, but it's not just the monetary value. The support and dedication of all the staff who have helped Albert get to where he is now, and no doubt the ones that will help in the future, is just priceless. Without them we would not have our amazing little boy."
Mark has already raised £6,000 of his £10,000 target and hopes to get even closer to the total before he flies out to Nepal on 22 September.
Amber Janney, events fundraiser, The Grand Appeal, said, "Bristol Children's Hospital provides lifesaving treatment to 100,000 critically-ill children from across the whole of the South West and South Wales every single year, and it's fantastic to hear how well Albert is now doing thanks to the expert care he has received over the years.
"Just like the athletes he coaches, Mark has been training hard to get ready for a feat of truly Olympic proportions! We're so grateful to him for taking on this epic challenge, and will have a gold medal ready and waiting for him when he returns!"
To support Mark's challenge, visit www.justgiving.com/Mark-Skimming/ or text SKIM79 and the amount you'd like to donate (£1 – £10) to 70070.
Mark isn't the only University of Bath coach raising money for The Grand Appeal – Strength & Conditioning Coach Bob Smith is running a half-marathon every week during 2016 after Bristol Children's Hospital provided care for his daughter, Autumn, when she was taken ill.
The Grand Appeal is celebrating its 21st anniversary this year and has raised more than £40million in that time. To find out how you can support The Grand Appeal in its anniversary year, visit www.grandappeal.org.uk .