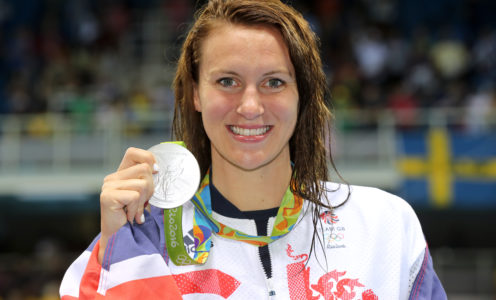 University of Bath-based swimmer Jazz Carlin will bid for her second medal of the Rio 2016 Olympic Games in the early hours of Saturday morning after qualifying third-fastest for the 800m freestyle final.
Full of confidence after her superb silver medal in the 400m freestyle, Carlin clocked 8:19.67 in the fastest heat of the day to put herself in a good lane for the final (2.20am BST).
"I didn't expect it to be 8:19, that's the fastest heat swim I've done by three seconds," said Carlin, coached by Dave McNulty and Graeme Antwhistle at the British Swimming National Centre Bath.
"There were a lot of girls gunning to be in that final and everyone will be fighting for the medals. It's about finding that rhythm, setting that pace and I felt comfortable, especially the first 400m I didn't feel I was working too hard.
"I've got that speed from my 400m, which is something that I normally struggle with so it would be great to use that in the final and also try to make sure I have enough in the bank for the last half of the race.
"Naturally you want to improve and go faster and I did the best time ever in my 400m, so hopefully I can get my 800m down to my best time too. I am just looking forward to it."
Fellow Rio silver-medallist Siobhan-Marie O'Connor and Chris Walker-Hebborn could also return to the pool on Friday in their respective 4x100m medley relay heats. The finals will conclude the Olympic swimming in the early hours of Sunday morning.