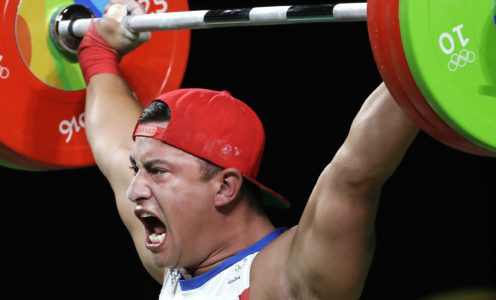 Weightlifter Sonny Webster said competing at Rio 2016 had been "the most amazing experience" of his life after the University of Bath graduate made his Olympic debut on Saturday.
And he also claimed an unusual record, becoming the first Olympic weightlifter to compete wearing a hat as he lifted 148kg in the snatch and 185kg in the clean and jerk for 333kg overall to finish sixth in Group B of the men's 94kg competition.
"That was the most amazing experience of my life being up there on that platform," said Webster, the British Champion who graduated in Sports Performance in June and was selected for Team GB the following day.
"You only get six minutes up there so I wanted to make sure I looked around and took it all in.
"There was a great crowd and I was so pleased to record that clean and jerk and get a score on the board. I didn't quite get the lifts I wanted but the experience has been incredible.
"I've been wearing the hat for a couple of years now. I wear it backwards as if the bar touches it it's a no lift. If I've broken one record it's being the first weightlifter to compete at an Olympics with a hat on.
"The Games have been amazing. There are so many of my heroes around and to just get to not only have a picture with them but to chat to guys like Andy Murray and Justin Rose has been brilliant.
"You'd think they'd be different because of what they've achieved but they're just like any normal guys. I'm rooming with the gymnastics boys and went to their final the other night. What they do is incredible and I'm looking forward to seeing them in the other finals this week."
Webster, coached by Andy Sutor at the Empire Sports Club in Bristol, has been supported by the Team Bath Dual Career programme. Applications for the 2016-17 programme will open on Wednesday, August 17 – click here for more information.
Picture by: Mike Groll/AP/Press Association Images