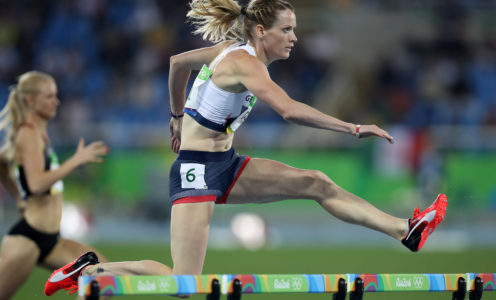 University of Bath-based hurdlers Andrew Pozzi and Eilidh Doyle have both safely progressed through to the semi-finals of their respective competitions at the Rio 2016 Olympic Games.
Despite torrential rain which delayed their heats, Pozzi was able to come runner-up in his 110m hurdles race while Doyle was a confident winner of her 400m hurdles opener.
Both are coached at the Sports Training Village by Malcolm Arnold, who is working with athletes at a 13th consecutive Olympic Games. Find out more about his approach to coaching in this fascinating profile feature.
Pozzi was unable to finish his heat four years ago at London 2012 due to injury but this time came home second to France's Dimtri Bascou in 13.50, despite clattering the last hurdle.
"It's job done but it was a messy race at the end," said Pozzi, whose semi-finals are scheduled for 12.40am BST on Wednesday with the final at 2.45am BST.
"I felt pretty good until then and felt I was in contention, then just made stupid little mistakes which you can't afford to do at the Olympic Games. Thankfully, I kind of lived to tell the tale but it is not something I will be repeating tomorrow.
"I just clipped the eighth hurdle a little bit and then I really ploughed through the ninth hard but I went into recovery mode and drove as hard as I could at the line to make sure I qualified.
"[London 2012] wasn't in my mind on the start line, it is just another competition now. I have had four years to think about London and get over London, it is not something that plays on my mind to be honest.
"That is the slowest time I have run this season and it is down to stupid mistakes and a couple of other factors. The conditions aren't great and no one is running particularly quickly at the moment but without a doubt I will bring that down, no problem."
Joining Pozzi in the 110m hurdles semi-final is former training partner and University of Bath Business Masters graduate Lawrence Clarke, who was third in his heat in 13.55.
"I was pretty nervous on the start line, I've waited four years for this," said Clarke, who was fourth at London 2012.
"I had a remarkably good start and I realised I was in the right place so I decided not to take any risks. I ran a nice, smooth race so I'm really pleased.
"Obviously that's secured my place in the semi-final and on paper, I wasn't supposed to make it that far. I'm now where it really matters and anything can happen in the hurdles – we saw someone get disqualified in the heats so you never know.
"I think I can improve a lot on that. I feel really comfortable. I think I was a bit high on the hurdles. London 2012 was my Olympic final. If I can get in to that semi-final and run my best I reckon I'm in for a shout. You just never know."
Former European champion Doyle has been in fine form this season and looked in good shape again as she won her 400m hurdles heat in 55.46 to qualify for Wednesday's semi-finals (1.10am BST).
"It was alright, a good, solid performance. I was quite nervous, which is unusual for me. I normally get nerves but I felt quite anxious.
"I've been in the village watching everybody else and I just wanted to get started. I'm relieved to have got through that round safely and I can go back and relax.
"You're trying to conserve as much energy as possible but also trying to get your strides in so it's difficult to run easy. I'm glad I could just do enough to get through.
"I'd love to run a personal best – this is the place to do it. You want to run your best time when it matters. I feel like I'm in good shape, I'm in personal best shape, so hopefully I can go out there and do something."
Jazmin Sawyers, the British long jump champion, is a third University of Bath-based athlete in action in the early hours of Wednesday morning – her qualifying round starts at 1.05am BST.
Sports Performance graduate Danny Talbot begins his 200m campaign in heat one at 3.50pm BST on Tuesday.
Picture by: Mike Egerton/PA Wire/Press Association Images