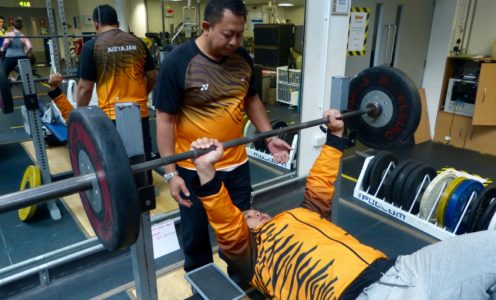 Two Malaysian powerlifters have been stepping up their preparations for the Rio 2016 Paralympic Games by training at the University of Bath.
Jong Yee Khie, a bronze-medallist at the Glasgow 2014 Commonwealth Games, and Shahmil Md Saad, who also competed in Scotland, spent two weeks using the world-class facilities at the Sports Training Village (STV).
As well as weight training in the Team Bath Gym, Khie and Saad – who have both earned qualification for Rio 2016 through the world rankings – had access to on-site recovery facilities like sport massage and ice baths.
They were joined by Head Coach Jamil Adam, who said: "It's been good to train in a different environment and it's been a great experience, everyone has been very friendly and welcoming.
"We wanted to get the athletes away from home and give them a different view. It's helpful for them to have to adapt to new situations as well."
Lt Cdr Kamaruzaman Kadir, President of the Malaysian Powerlifting Para Federation, was also part of the visiting contingent and said he would be taking positive reports back to Malaysia.
"We would come back here, not only with these guys but other groups," he said.
"The athletes have seen and learnt a lot of new things. We must thank [University of Bath Director of Sport] Stephen Baddeley for letting us use these facilities and all the staff here for their warm welcome and support."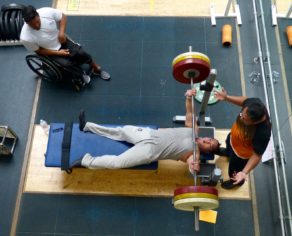 The University of Bath signed a Memorandum of Understanding with the Malaysian National Sports Institute in 2010, which gave athletes from the Asian nation the chance to use the STV as a training base.
The Malaysian badminton team trained at the University ahead of the London 2012 Olympic Games but Khie and Saad are the first Paralympic athletes from that country to base themselves in Bath.
Bitton's Jon Amos is no stranger to the University – he trained there during his own Paralympic powerlifting career and used it for the national squad during his time as Head Coach of the ParalympicsGB powerlifting team.
He has been working with the Malaysian team during their visit in his role as an elite performance consultant.
"My main role is mentoring Jamil as a coach and helping him get the best from the athletes," said Amos. "They have been great to work with, they listen well.
"Malaysia is just evolving a Podium Performance programme, which is something we have had in Britain for many years, so these visits are part of that development.
"They have been training in the gym but they have also experienced things like ice baths for the first time. We gave them a rest day to visit Bath Spa as well, which is all part of the strategy – we can show them that recovery is as important as the training.
"It was a long way to come for training but visits like this allow Jamil and the athletes to see the high performance level required now."
Khie said: "I've enjoyed my visit and I'm feeling excited for Rio. This is my first Games and it has been a dream. I'm looking forward to competing at the very highest level and hopefully producing a good lift."