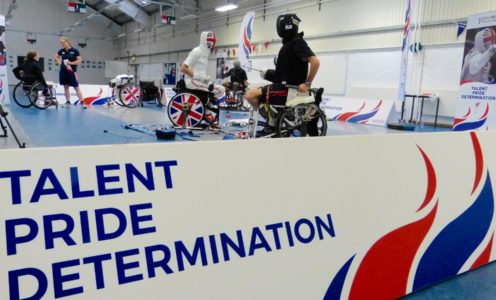 Britain's wheelchair fencers will fly out to the Rio 2016 Paralympic Games today in peak condition after attending a final preparation camp at the University of Bath.
Piers Gilliver and Dimitri Coutya, ranked number one and two in the world in their respective disciplines, were joined by last-minute call-up Gemma Collis for a five-day get-together at the Sports Training Village.
As well as train in the fencing salle, the Paralympics GB trio also received advice on such subjects as nutrition, sport science and security to ensure they were fully prepared for the challenge ahead.
It was familiar territory for epee fencer Gilliver, who has been based at the University for the past 18 months and has won a host of World Cup, World Championships and European Championships medals during that time.
"It's been a great environment to work in," said the 21-year-old, whose training includes regular fencing sessions with Pentathlon GB's elite training group.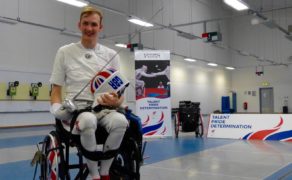 "I get to train with the pentathletes in the fencing salle and also use the physio and sports science services, as well the gym. It's really helpful to have everything on one site.
"I am really excited about Rio. I am currently ranked number one in the world so the aim has to be the gold medal. It has been my dream for such a long time and it's so exciting that I am this close to having a shot at achieving it."
Gilliver's lead coach is Peter Rome, who believes the ParalympicsGB fencers are in good shape to deliver results in Rio.
"I am sure it will be a fantastic competition and an amazing atmosphere," he said. "All the fencers are well prepared and have enjoyed very good success during the qualifying period, so I am expecting them to do well.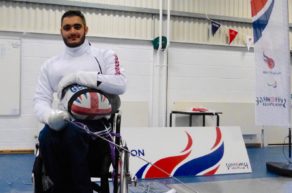 "The preparation camp has been a great opportunity to bring the team together in the run-up to Rio. It has been a very positive environment and the facilities here at the University are fantastic.
"The progress that Piers has made in the last six months has been phenomenal and it is all coming to a nice peak at just the right time."
Foil specialist Coutya qualified for Rio 2016 ranked number two in the B category and cannot wait for the Paralympic Games to finally begin.
"Preparations have been going really well and I am buzzing about having the chance to compete on the biggest stage of all," said the 18-year-old.
"I have been competing alongside Piers and Gemma for a long time and being on the qualifying circuit for Rio has really brought us closer together."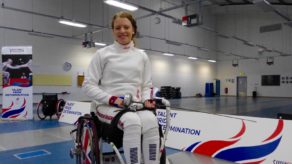 Epee fencer Collis competed at London 2012 but thought she had missed out on Rio 2016, only to be selected two weeks ago when places became available after Russian athletes were banned from the Games.
"These last couple of weeks have been a bit of a whirlwind," she said. "Fortunately I was still in training when I got the call so I am not starting again from scratch.
"The guys are absolutely in peak form but I am catching them up. Having been to a Paralympic Games before and having that experience to draw on has really helped me with my preparations."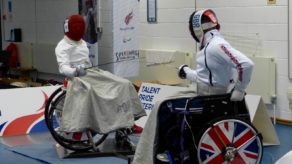 Collis, Coutya and Gilliver will all be competing in their respective epee competitions on Tuesday, September 13. The pool stages start at 1pm BST and the gold-medal matches get under way at 8.30pm BST.
Coutya and Gilliver will also contest the foil events on Wednesday, September 14.
Gilliver is one of five University of Bath-based athletes competing at the Rio 2016 Paralympic Games. Paul Blake, Sophie Kamlish and Polly Maton will contest the track and field events, while Nicole Walters is guide to Melissa Reid in the para-triathlon.