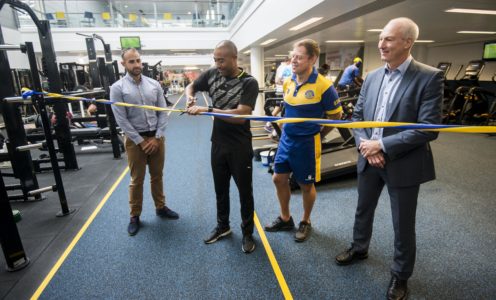 Athletics legend Colin Jackson returned to his former University of Bath training base on Wednesday to officially open the extensively-refurbished Team Bath Gym.
The double World 110m hurdles champion was joined by gym members, University of Bath staff and representatives of Matrix Fitness UK – the company that has kitted out the gym with new state-of-the-art equipment – as he cut a Blue and Gold ribbon in the Sports Training Village facility.
"It gives me great pleasure to officially open the Team Bath Gym," said Jackson, who is a University of Bath Hall of Fame for Sport inductee and ambassador for Matrix Fitness.
"I won many World, European and Commonwealth medals while proudly representing Team Bath, so it's always great to come back here and see how the University and the Sports Training Village is developing.
"I am so jealous of you guys at the University having this amazing equipment – back in the day I just used to lift dead weights!
"I'm excited because I have seen what Matrix have done in the past – their equipment is really at the top end. They talk to elite-level athletes about the practical side of training, then develop equipment which meets those needs. That also means the general public get a massive benefit too."
Jackson tried out some of the new Matrix equipment like aura strength products, S-Drives, Functional Trainers and Krankcycles, plus 7xi generation products including treadmills, ellipticals, upright bikes, ascent trainers and a ClimbMill.
Stephen Baddeley, Director of Sport for the University of Bath, said: "The Matrix equipment is fantastic – this is the only place in Europe you will find some of the equipment, it is absolutely at the leading edge of technology, and will be of huge benefit to our students and customers.
"We have a real partnership with Matrix – not only have they supported the gym refurbishment but they are also supporting sporting scholarships for students and the work of our Talent Development Centre."
Tony Ali, Matrix UK's National Strategic Sales Manager for the Education Sector and Account Manager for the University of Bath, added: "It has been a long process but we are really happy both with how the gym looks and the positive customer feedback we have already received.
"This is a project that we are looking to move forward and this positive start gives us very strong foundations to build on in the years ahead."
To celebrate the official opening and National Fitness Day, there is free access to the gym throughout the day. Trainers are conducting free fitness classes and mini workshop, while visitors can also gain nutritional advice, have a sports massage and try out the new body composition machine.
There are a host of competitions too, with prizes to be won. One of them is a medicine ball throwing challenge against Strength & Conditioning Coach Luke Vella, with all money raised going towards funding knee surgery for Team Bath judoka Jemima Duxberry.
Fellow Strength & Conditioning Coach Bob Smith also ran a half-marathon on a treadmill – his 35th half-marathon of the year as he raises money for the Wallace & Gromit Grand Appeal at Bristol Children's Hospital.
For more information about the Team Bath Gym, visit www.teambath.com/fitness/our-gym/. To find out more about Matrix Fitness UK, visit uk.matrixfitness.com.
Image gallery