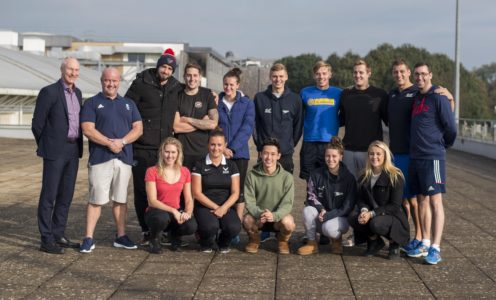 The thriving partnership between the University of Bath and British Swimming was celebrated at the Sports Training Village on Friday as athletes, coaches and staff gathered to reflect on another outstanding year of success in the pool.
Rio 2016 Olympic medallists Jazz Carlin, Siobhan-Marie O'Connor and Chris Walker-Hebborn were among members of the British Swimming National Centre Bath squad who joined Team Bath staff for a special 'thank you' breakfast in the Sports Café.
The University of Bath has been a proud host for the past eight years to one of only two National Centres in the country. During that time, under the guidance of coaches Dave McNulty and Graeme Antwhistle, the elite swimming squad has gone from strength to strength.
As well as contributing to four of the six Olympic medals won by Team GB in the pool this summer, Bath-based swimmers also won silver at London 2012 through Michael Jamieson and have claimed a host of medals at the World Championships, European Championships and Commonwealth Games.
Addressing the gathering, University of Bath Director of Sport Stephen Baddeley said: "I wanted us all to get together to say how much we appreciate the fact the British Swimming National Centre is based with us here at the Sports Training Village.
"There are three key reasons, the first – and perhaps most obvious – is it gives a profile and reputation to the University, in particular because the swimmers keep doing so well!
"To contribute to four of the six swimming medals won by Team GB in Rio was outstanding. This is the cream of British Swimming and it's fantastic that you are here.
"The second reason is the influence you have on the staff and students here at the University. The fact we have swimmers of your caliber, constantly striving to be your best, is a real motivation to everyone in the building.
"The third reason is you are all just such nice people and that all starts with Dave at the top. The way you work with us is really appreciated. You understand that we're doing everything we can to help you.
"Any problems that do come up, you work with us to find solutions and make these facilities and this environment the best it can be."
McNulty added: "I have been lucky enough to work in many pools and training centres across Britain and around the world, and I can honestly say there is nowhere better than here.
"Every time I walk into the Sports Training Village, eight years after I first started here, I still look around and think how lucky I am to work in an environment like this. It's thriving, it oozes performance and we couldn't ask for anything better than the staff and the facilities here."
Carlin, O'Connor, Walker-Hebborn and Chemical Engineering graduate Andrew Willis, who missed out on a medal in Rio by just eight-hundredths of a second, were joined at the breakfast by reigning World Champion Calum Jarvis, Joe Hulme and double Olympian Jemma Lowe.
There were also three newcomers to the National Centre squad – Julian Chan Quee Lin, who has represented Britain at the European Youth Olympics; Jessica Fullalove, who competed for England at the Glasgow 2014 Commonwealth Games; and Tom Derbyshire, who won gold and silver at this year's European Junior Championships.
Derbyshire, who has just started a Sport & Exercise Science degree at the University, said: "I couldn't ask for a better training group. I knew I was in the squad before the Olympics so watching Rio and seeing Jazz, Siobhan-Marie, Chris and Andrew all do so well just motivated me even more.
"To be able to train alongside such great swimmers is something you never think is going to happen. It's a very friendly group, everyone gets on well together and has a laugh which means that training isn't a chore."
British Swimming is one of 13 national sporting organisations to enjoy a strong partnership with the University of Bath and more than 250 international-level athletes use the £30million Sports Training Village as their main training base.
Students and members of the public can swim in the same London 2012 Legacy Pool as the British Swimming National Centre Bath squad. Click here for more information.
Pictured top are (clockwise from top left) Stephen Baddeley, Dave McNulty, Calum Jarvis, Chris Walker-Hebborn, Jazz Carlin, Tom Derbyshire, Joe Hulme, Andrew Willis, EiS Strength & Conditioning Coach John Watson, Graeme Antwhistle, Siobhan-Marie O'Connor, Jessica Fullalove, Julian Chan Quee Lin, EiS Physio Jane Carre and Jemma Lowe. PICTURES: Clare Green for Matchtight.