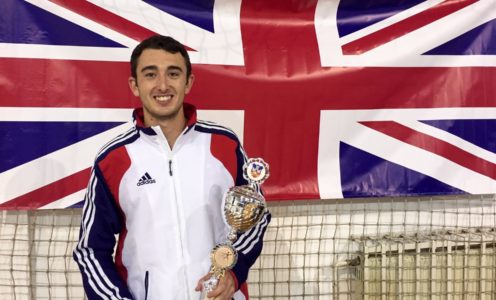 University of Bath fencer Tom Edwards began his international season in fine style, by winning a bronze medal in epee at the Belgrade Trophy in Serbia.
The result has massively increased the Santander Sports Scholar's world ranking, lifting him from 952nd up to 283rd, and will provide him with an improved draw at the World Cup in Bern, Switzerland in two weeks' time.
Edwards, who studies Sport & Exercise Science and is supported by the Team Bath Dual Career programme, lost 5-0 to eventual champion Jesus Andres Lugones Rugerri of Argentina in his opening poule bout and then suffered a 4-3 defeat on time to Romania's Liviu Dragomir in a contest where three of the Brit's hits were missed by the referee.
Despite these setbacks, Edwards recovered to record convincing victories over his remaining poule opponents and finish the round ranked 14th overall.
"My seeding gave me a bye through the first round of the knockout stages, after which I comfortably despatched Victor Vilceanu of Romania 15-8," Edwards said.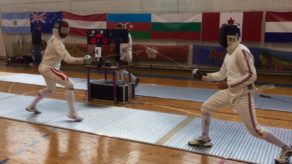 "The following fight was a tough encounter against another Romanian, the fourth of the day, but I came through it with a 15-12 win to progress to the quarter-finals.
"Here I came up against the sixth seed, Ovidiu Pirvuleasa who has recently progressed from the junior age groups as one of the top athletes. I started well and took a 7-2 lead but, following a couple of mistakes and clever tactical play from Pirvuleasa, the fight levelled out at 10-10.
"During the break I used my experience to adapt my tactics to ensure victory, with a 15-13 scoreline and set up a semi-final against Lugones Ruggeri. He took an early lead that I could not recover from and I eventually lost 15-5 to finish in the bronze-medal position.
"My aim was to finish in the top eight prior to the event, thus gaining international ranking points, so I was very happy with finishing on the podium."