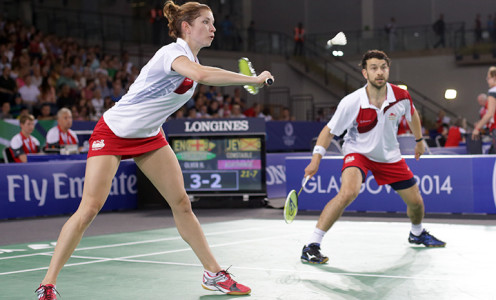 University of Bath graduate Heather Olver has announced her retirement from badminton after an excellent career which saw her win three Commonwealth Games medals and represent Team GB at the Rio 2016 Olympic Games.
Olver studied Coach Education & Sports Development from 2004 to 2007, with her time at the University being bookended by two memorable successes – team bronze with England at the 2004 Commonwealth Youth Games and victory with Bath in the prestigious BUCS (British Universities & Colleges Sport) Championships in her final year.
She then joined the elite Badminton England programme upon graduation and went on to win team silver with England at both the Delhi 2010 and Glasgow 2014 Commonwealth Games. She was also a finalist in the mixed doubles with Chris Langridge in Glasgow (pictured).
Olver then qualified for Rio 2016, making her Olympic debut alongside Lauren Smith in the women's doubles, before deciding to finish her international career – her last tournament will be next week's Bitburger Open in Germany.
Pete Bush, Head Badminton Coach at the University of Bath, worked with Olver during her time as a student and said: "Heather was a dedicated professional athlete who managed to combine full-time training alongside her studies. She has achieved so much in her career and I was so proud to see her representing Great Britain at the Rio 2016 Olympics."
Olver added: "It is now time for me to end this chapter of my life with very fond memories. I feel very fortunate to have had the long career I have had and I'm proud of what I have achieved along the way. With many highs and lows along the journey, it is still one I wouldn't change for the world.
"Thank you to my very first coach Bruce Peapel for introducing to me my love of badminton and dream of wanting to become an Olympian. Thanks also to my coaches throughout the years – Karen Chapmen, Tanya Woodward, Manfred Tripp, Pete Bush, Andy Wood and Julian Robertson."