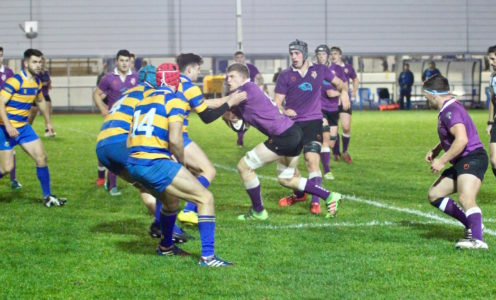 The University of Bath's winning start to the BUCS Super Rugby season came to an end on Wednesday as an impressive Durham University side left the Sports Training Village with a well-earned 15-10 victory.
An evenly-contested first half saw Durham take advantage of a yellow card for home centre Charlie Dunbar to score the opening try through Tom McLean.
Nathan Holmes kicked the conversion and added a penalty just after half-time before the battling hosts hit back through hooker Tom Doughty's fifth try of the season, converted by Hugo Stiles.
However, Durham winger Rob Stephenson ruthlessly punished a lapse in concentration moments later as he raced through from 60 metres to score a fine solo try.
A late Stiles penalty got the hosts back to within one score but Durham held firm to record their third successive win and move above previous table-toppers Bath in the league standings.
University of Bath captain Will Britton said: "We were five per cent off today, man for man, and you can't afford to do that in this league.
"We didn't hold onto the ball for long enough and turn that into points, which was disappointing. We had said before the game that we had to get points on the board when we had those opportunities.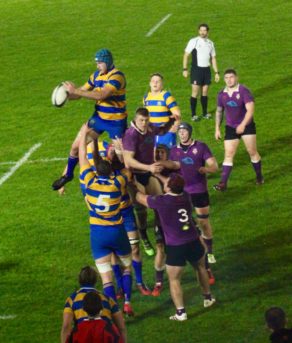 "It's good that we came back strongly but it was too little, too late really. We shouldn't have to be coming back in the 70th minute, we should have had our heel on the game by then and be closing it out."
Aaron James, Head of Rugby at the University of Bath, added: "Fair play to Durham, they played well tonight, but our set piece didn't function as well as it has been.
"We gave away crucial penalties at the scrum and didn't get the lineout over when we had the opportunities. There was good endeavour but we made more errors than Durham and a defensive slip-up allowed their winger to run in from 60 metres.
"It's more stuff that we're doing ourselves which is costing up points but we'll pick ourselves up and kick on next week."
The University of Bath made two changes to the XV that started last week's hard-fought win over Leeds Beckett at The Rec, with Conor McGrath and Alex Weighton coming in at prop and flanker respectively.
The hosts were immediately on the front foot as Durham scrum-half Tim Turner was yellow-carded for a deliberate knock-on with just 31 seconds on the clock.
However, errors in the lineout – a strength in the opening matches – meant that Bath were unable to take advantage of the extra man and Durham worked their way back into the game.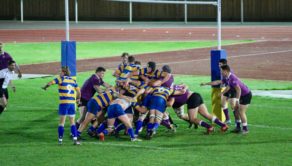 The visitors were having much the better of the set pieces and when Bath were reduced to 14 men in the 32nd minute, Dunbar being sent to the sin bin, it didn't take long for Durham to capitalise.
Sustained pressure on the Bath line led to McLean breaking through for a try and Holmes' conversion gave the visitors a 7-0 advantage at the break.
Durham started the second half brightly and forced a succession of penalties, one of which Holmes elected to put through the posts to extend his side's advantage.
Bath were struggling to find any rhythm but they kept plugging away and were rewarded in the 65th minute when they won a lineout and drove over, with the prolific Doughty again claiming the touchdown.
Stiles' conversion closed the gap to three points and another comeback looked on but, just a couple of minutes later, Bath momentarily switched off after a penalty was awarded against them and winger Stevenson took full advantage as he collected a pass from Tristan Rawcliffe before racing 60 metres for his fourth try of the season.
Bath applied plenty of pressure and a Stiles penalty with two minutes to go put them back in touch. However, Durham's well-organised defence held firm in the closing stages to seal a fine win.
The University of Bath will look to bounce back when they play their fourth home fixture in as many weeks on Wednesday, November 9, this time against Northumbria University – the team they beat 38-17 at Newcastle in their opening match.
It will once again be played on the University's Sports Training Village athletics in-field from 6.30pm and admission is free.
For more information about BUCS Super Rugby, including fixtures and player profiles, visit www.teambath.com/rugby/bucs-super-rugby.
Match stats
University of Bath starting XV: 1 Conor McGrath, 2 Tom Doughty, 3 Alex Wood, 4, Will Britton (c), 5 Jack Davis, 6 Alex Weighton, 7 Adam McCarthy, 8 Tom Kynge, 9 Will Flinn, 10 Ludi Hopkinson, 11 Levi Davis, 12 Charlie Dunbar, 13 Craig Duncan, 14 Jake Allen, 15 Hugo Stiles.
Replacements: 16 George Frampton, 17 Jake Buckingham, 18 Austin Hay, 19 Scott Russell, 20 Freddie Avis, 21 Jack Turner, 22 Robbie De Bruyan.
Try: Doughty.
Conversion: Stiles.
Penalty: Stiles.
Durham University starting XV: 1 Adam Brocklebank, 2 Jack Beazer, 3 Diogo Ferrasse, 4 Colin Markham, 5 Ed Varney, 6 Joe Duffy, 7 Brodie Wilson, 8 Buchan Richardson (c), 9 Tim Turner, 10 Nathan Holmes, 11 Ben Stevenson, 12 Sam Moncur, 13 Tom McLean, 14 Rob Stevenson, 15 Tristan Rawcliffe.
Replacements: 16 Max Hayes, 17 Gabriel Ames, 18 Cai Devine, 19 Ethan Harbinson, 20 Harry Bassett, 21 Ben Cook, 22 Ali Neden.
Tries: McLean, Stevenson.
Conversion: Holmes.
Penalty: Holmes.
Referee: Luis Caviglia.
Assistant officials: Charles Gayther, Iain Kly.
Attendance: 350.