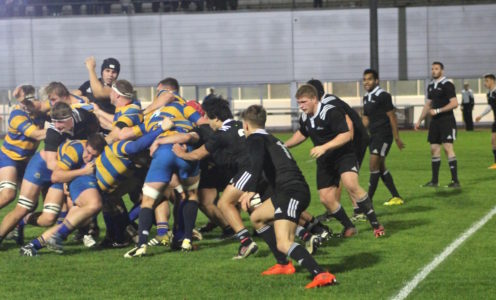 The University of Bath men's 1st XV slipped to a second successive home defeat as Northumbria University recorded their first-ever BUCS Super Rugby victory on Wednesday.
It was the second time the teams had met in the new national league in its opening month, with the Blue and Gold claiming an impressive 38-17 win in the first encounter at Newcastle's Kingston Park ground.
And they led 7-3 after a bright start to tonight's match at the Sports Training Village, with Alex Weighton's try and Hugo Stiles' conversion overturning George Wacokecoke's penalty.
However, a converted try from winger Charlie Parkhouse gave the visitors a narrow advantage at half-time and Aedan Moloney touched down after the break as Northumbria sealed an 18-7 victory – their first win at their fifth attempt.
Aaron James, Head of Rugby at the University of Bath, said: "Some people might have looked at Northumbria and seen that they've had some big losses but they're a good side and they played well tonight.
"This is a tough league and we've got to be on our game against every team but tonight we made too many errors in a number of areas.
"We're a better side than the one that played tonight. We just have to take the error count out, test our character and work our way out of it – we'll spend these next two weeks getting better."
Centre Charlie Dunbar, who was home captain in the absence of the injured Will Britton, added: "We just didn't get into our shape or look after the ball tonight. We didn't build the play and that was our number-one problem.
"We had chances in both halves and weren't clinical when we needed to be. That was the difference.
"We didn't cross the t's and dot the i's like we should have but I'm 100 per cent confident we'll bounce back from this as a group."
The University of Bath made five changes to the XV that started last week's 15-10 defeat to Durham University, with prop Greg Palmer, locks Scott Russell and Mike Snook, number eight Freddie Avis and outside centre Robbie De Bruyn coming into the line-up.
Northumbria went into the game on the back of a 67-6 defeat to league leaders Hartpury College but got the first points on the board as Wacokecoke kicked an eighth-minute penalty.
Bath had gone behind in every match this season and once again they responded well. The five-metre lineout has been one of their most effective set-pieces so far and so it proved once again as they kicked a penalty into the corner, won the throw-in and drove over.
Weighton got the touchdown and Stiles added the extras but the lead only lasted five minutes before Northumbria won a scrum against the head in the Bath 22 and winger Parkhouse charged through to score, leaving Wacokecoke with a simple conversion.
Bath tried to move the ball but were let down by handling errors. They did force a kickable penalty just before the break but went for the corner again and this time lost the lineout, meaning they remained 10-7 down at half-time.
That gap grew 11 minutes into the second period as Northumbria – belying their lowly league status with a fine team performance – applied sustained pressure on the Bath line before centre Moloney barged over.
The conversion was missed and when Bath forced a penalty immediately from the restart, Stiles' successful kick brought the hosts back to within one score.
However, they were unable to build any momentum during the remaining quarter and a Wacokecoke penalty ensured the visitors would enjoy a happy journey back to Newcastle.
The University of Bath are next in BUCS Super Rugby action on Wednesday, November 23 when they welcome Exeter University to the Sports Training Village. Kick-off is 6.30pm and admission will once again be free.
For more information about BUCS Super Rugby, including fixtures and player profiles, visit www.teambath.com/rugby/bucs-super-rugby.
Match stats
University of Bath starting XV: 1 Greg Palmer, 2 Tom Doughty, 3 Alex Wood, 4 Scott Russell, 5 Mike Snook, 6 Alex Weighton, 7 Adam McCarthy, 8 Freddie Avis, 9 Will Flinn, 10 Ludi Hopkinson, 11 Levi Davis, 12 Charlie Dunbar (c), 13 Robbie De Bruyn, 14 Jake Allen, 15 Hugo Stiles.
Replacements: 16 George Frampton, 17 Jake Buckingham, 18 Austin Hay, 19 Tom Bottoms, 20 Dan Thomas, 21 George Humphrey, 22 Craig Duncan.
Try: Weighton.
Conversion: Stiles.
Penalty: Stiles.
Northumbria University starting XV: 1 George Williams, 2 Louis Musetti, 3 Jamie Ross, 4 Ed Bloodworth, 5 Matt Solway, 6 Mike Walton, 7 Matt Jenkinson, 8 Oli Robinson, 9 James Christie, 10 George Wacokecoke, 11 Charlie Parkhouse, 12 Aedan Moloney, 13 Jonny Haldane, 14 Luc Simpson-Kent, 15 Ryan Murray.
Replacements: 16 Tom Williams, 17 Jake Ellwood, 18 Henry Hawhood, 19 Tom Cooksey, 20 Sam Taylor, 21 Dav Cook, 22 Tom Richardson.
Tries: Parkhouse, Moloney.
Conversion: Wacokecoke.
Penalties: Wacokecoke 2.
Referee: Robert Bourke.
Assistant officials: Adam Wookey, Mark Doran.
Attendance: 250.