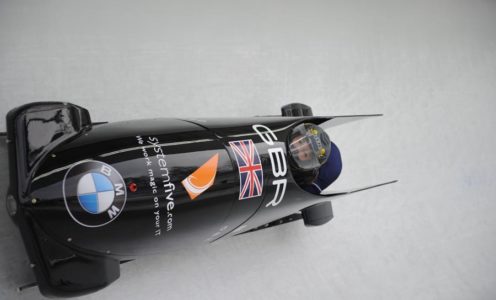 Mica McNeill and Mica Moore won a brace of silver medals at the North American Cup in Calgary, Canada, as GB Bobsleigh made a fantastic start to the new season.
The pairing had never raced together before the weekend, with Welsh Commonwealth Games athlete Moore only joining the bobsleigh programme at the University of Bath during the summer.
However, they produced two excellent performances on Friday and two more on Saturday to claim back-to-back podium finishes in a competition otherwise dominated by the home nation.
"To produce such impressive performances in successive races is extra special," said GB Bobsleigh Performance Director Gary Anderson.
"Starting the season with two silver medals on the women's circuit is a huge boost to the squad as a whole and I know Mica and Mica will be confident they can continue to improve together, especially when you consider that they had never raced together prior to the weekend.
"We take great care in getting our recruitment right and to seeing someone like Mica Moore do so well just a few weeks after joining the programme is obviously very pleasing."
In the men's races, Bruce Tasker was the standout British driver as he piloted Sam Blanchet – a former England Rugby 7s star making his bobsleigh debut – and then John Baines to successive sixth spots and a place on the wider podium.
It was also a solid start to the season for GB Skeleton, also based at the University of Bath as part of the British Bobsleigh & Skeleton Association (BBSA).
Marcus Wyatt finished fourth and fifth in his European Cup races in Igls, Austria, while Maddy Smith was fifth and sixth respectively.
The Intercontinental Cup competition at the same venue saw Donna Creighton place seventh and sixth in her races, while Jerry Rice improved from tenth to sixth.
Ashleigh Pittaway again backed up her performances from last season's Youth Olympics gold medal-winning campaign with two top-12 places on the ICC circuit, while Kenny Howard was ninth in Race 2.
Brogan Crowley was equal ninth and 11th; Tim Hull was eighth and 14th; Craig Thompson was 10th and 12th; Kim Murray was 16th and 20th; and Ellie Furneaux was 21st and 24th on the EC circuit, with James Howard 24th and 25th in ICC competition.
Bobsleigh and skeleton athletes train in the UK on the outdoor push-track at the Sports Training Village, the only one of its kind in Britain. Click here for more information about the BBSA.