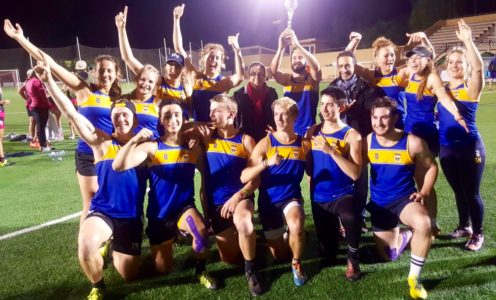 The University of Bath Hawks touch rugby team continued their hugely-successful start to the season by claiming their first-ever overseas title at the Mallorca Touch International Mixed Tournament.
It is only the second time that a university team has won at a European club tournament and follows on from the Hawks' victories in the opening two rounds of the England Touch Universities Touch Series (UTS).
Their only defeat of the season so far came during the group stages in Mallorca as they were beaten by a strong Tequila Unicorns side from Scotland.
Despite this setback, Hawks progressed to the knockout stages and recorded big wins against teams from the Civil Service Sports Club in the quarter and semi-finals to set up a showdown under floodlights with London Galaxy, who play in the England Touch National Touch Series.
A tense start saw Hawks have to defend repeated sets of possession on their own goal-line but they kept their composure and were able to capitalise well on their possession to take a 2-0 lead into half-time.
They enjoyed more possession and territory in the second period and again took their chances well to score four touchdowns to Galaxy's one.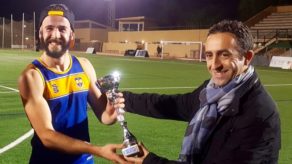 Captain Will Serocold (pictured right), who studies Sports Performance and is supported by Team Bath's Dual Career programme, said: "That's probably the toughest game we've ever had as a team and I'm so pleased to have come out on top, I cant describe how much this means to me and the squad.
"I'm so proud of everyone, they've worked so hard and to bounce back from a defeat in the morning shows great character. Most people were playing their first tournament overseas and that has its challenges but I'm so impressed with how everyone has dealt with those."
Hawks haven't had much time to celebrate as they are competing in the semi-finals of the Bath Touch League on Tuesday, looking to book their place in next week's final.
They have been in fantastic form domestically, beating Loughborough University in the final of the first UTS competition at the University of Surrey and overcoming the hosts in front of a partisan crowd when round two was staged at Exeter University.
The next round is taking place at Loughborough University in February and Serocold said: "It's been a busy start to the season for us but everyone has done a great job in balancing training and tournaments with their university work."
The successful Hawks squad in Mallorca was made up of Serocold, Abi Caple, Gracie Hood, Dom Tripp, Ollie Lee, Bronte Sykes, Jessie Hood, Emma Kurki, Daniel Roberts, Nye Davis, Rhys Lynch, Jade Traynor, Oliver Wu and Stephanie Harris.
Follow the Hawks on Twitter and Instagram – @UoBathTouch – to keep up to date on their progress. Students looking to get involved in touch rugby at the University of Bath should contact Will Serocold on ws366@bath.ac.uk or unibathtouch@gmail.com.