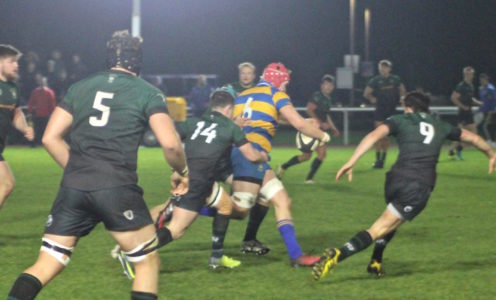 An improved second-half performance was not quite enough to prevent the University of Bath men's 1st XV slipping to a 26-17 BUCS Super Rugby home defeat against University of Exeter on Wednesday.
The hosts were slow to get into their stride in blustery conditions and allowed Exeter to open up an 11-0 lead at the break through Matt Elliet's early try and two Ted Landray penalties.
Landray and Hugo Stiles exchanged penalties in the opening stages of the second half before Exeter scored their second try through number eight Tom Lawday, despite being down to 14 men at the time.
Bath were much more effective in the second period, though, and touched down twice themselves through Jack Davies – who made his professional debut with Cardiff Blues last week – and Dan Rowland, either side of a try from Exeter lock Jack Rouse.
University of Bath Head Coach Mark Lilley said: "Our discipline cost us a little in the first half and we gave ourselves too much to do to get back into the match.
"Credit to Exeter, they are good at what they do – they build pressure and punish mistakes. We said before the game we had to be disciplined and stick to our processes but we didn't do that in the first 20 minutes and that allowed them to build a lead.
"There were plenty of positives to take, though, particularly from the second half. We managed the game well, our forwards got into it and the backs started playing a bit more.
"But for a couple of mistakes in execution we would have been in an even better place. Our drive was going well but we missed a couple of lineouts in key areas – if we'd have got another one of those, that would have made things interesting."
Bath had to shuffle their starting line-up just before kick-off when centre Charlie Duncan withdrew through illness. Craig Duncan moved across to replace him, while Jake Allen was restored to the wing.
Exeter, who won the national BUCS title during the 2015-16 season, arrived at the Sports Training Village on the back of four successive victories and needed just three minutes to take the lead as Elliet was driven over from a 5m lineout.
Landray missed the conversion in difficult conditions but made no mistake with two penalties in quick succession midway through the half to give Exeter an 11-0 advantage.
Bath enjoyed their best spell of pressure around the half-hour mark but could not find a way through a well-disciplined Exeter defence. When they did force a penalty, the usually clinical Stiles pulled it wide from 25m.
Exeter extended their lead through another Landray penalty five minutes into the second half but Bath were now looking much brighter and got on the scoresheet when Stiles kicked a simple penalty, conceded by Elliet for a tackle which earned him a yellow card.
Bath looked to take advantage of the extra man and quickly forced another penalty but Stiles was off target in the windy conditions. Instead it was Exeter who extended their lead when Lawday wriggled through off the back of a scrum.
The hosts kept battling away and cut the lead to 19-10 when they won a 5m lineout and drove Davies over for a try that Stiles brilliantly converted from a difficult angle.
However, Exeter made the points safe when Rouse finished off a period of sustained pressure on the Bath line and Landray added the extras.
There was still time for Bath to score their second try of the evening when the ball was spread wide for winger Dan Rowland to break through a couple of tackles and touch down. Stiles' conversion was the last action of the game.
The University of Bath's next home match is against unbeaten league leaders Hartpury College on Wednesday, December 7. Kick-off is 6.30pm and admission is free once again.
Before that, the Blue and Gold face only their second away trip of the season so far – a visit to Cardiff Metropolitan on Wednesday, November 30 (7pm kick-off).
For more information about BUCS Super Rugby, including fixtures and player profiles, visit www.teambath.com/rugby/bucs-super-rugby.
Match stats
 University of Bath starting XV: 1 Jake Buckingham, 2 Tom Doughty, 3 Alex Wood, 4 Will Britton (C), 5 Jack Davis, 6 Alex Weighton, 7 Adam McCarthy, 8 Tom Kynge, 9 Will Flinn, 10 Ludi Hopkinson, 11 Craig Duncan, 12 Charlie Dunbar, 13 Robbie De Bruyn, 14 Dan Rowland, 15 Hugo Stiles.
Replacements: 16 George Frampton, 17 Greg Palmer, 18 Austin Hay, 19 Scott Russell, 20 Freddie Avis, 21 George Humphrey, 22 Jake Allen.
Tries: Davies, Rowland.
Conversions: Stiles 2.
Penalties: Stiles.
University of Exeter starting XV: 1 Ryan Everleigh, 2 Callum Young, 3 Jack Owlett, 4 Simon Linsell (C), 5 Jack Rouse, 6 James McRae, 7 Matt Elliet, 8 Tom Lawday, 9 Aaron Bagwell, 10 Charlie Wicks, 11 Callum Roberts, 12 Chris Swash, 13 Ted Landray, 14 Dom Thorne, 15 Jamie Wilcock.
Replacements: 16 Rauf Briler, 17 Elliot Roofe, 18 Kas Eelman, 19 Ed Forshaw, 20 Ed Hoochin, 21 Tom Holdsworth, 22 George Smith.
Tries: Elliet, Lawday, Rouse.
Conversion: Landray.
Penalties: Landray 3.
Referee: Daniel Parrott.
Assistant referees: Iain Kiy, Scott Galbraith.
Attendance: 300.