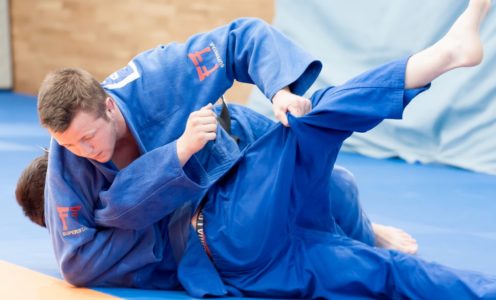 As many as nine Team Bath judoka brought home medals during an "outstanding" display at the British Judo Championships over the weekend (Dec. 10 and 11).
Olympian Ben Fletcher, who represented Great Britain at Rio in the summer, became senior British champion for the third time when he won the -100kg men's competition in style, claiming victory in all seven of his bouts.
Bronze in the same event went to University of Bath placement student Rhys Thompson who, at three years younger than Fletcher, has benefited greatly from having the Bath-based Olympian as a training partner.
Team Bath secured gold and bronze in the -60kg men's competition, too, with Renz Vallejera and Adam Conroy securing the medals respectively.
In the junior event, Bath College student Ottavio Razzino clinched bronze in the -60kg event.
There were also impressive senior performances from Prisca Awiti-Alcaraz (-63kg), Gregg Varey (-66kg), Sam Potts (-90kg) and Conor Murphy (+100kg) who won bronze, silver, bronze and bronze in their respectively competitions.
Team Bath Head Coach Juergen Klinger said after the weekend: "The results were very promising, and good for the judo group.
"Ben was outstanding and Renz made a big step forward with his gold," Klinger, who has a 7 Dan, continued.
"Our medals show the potential in this group going forward in the next four years."
For more information about the judo programme at the University of Bath, visit www.teambath.com/judo.