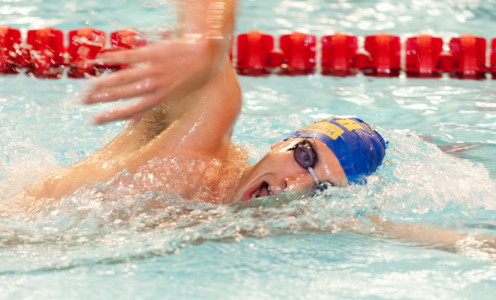 University of Bath-based swimmers won a terrific 23 medals – 13 of them gold – during four fantastic days of short-course competition at the 2016 ASA National Winter Meet.
Leading the way at Ponds Forge, Sheffield, with five titles was Sports Performance graduate Calum Jarvis (pictured left) who struck gold in the 100m butterfly (51.34), 100m freestyle (47.91) and 200m freestyle (1:44.96).
He also teamed up with Joseph Hulme, Charlie Attwood and Jay Lelliott to take the men's 400m medley team title in 3:31.66, then clocked 7:03.78 for victory in the men's 800m freestyle team event with Lelliott, Julian Chan Quee Lin and Tom Derbyshire.
"I had the expectation to come here and do well but to take five gold medals is great," said Jarvis, a reigning World Champion who is part of the British Swimming National Centre Bath performance squad coached by Dave McNulty.
Jarvis and Lelliott completed their busy weekends by joining forces with Chan Quee Lin and Miles Munro to win silver in the 400m freestyle team event in 3:13.54.
That was an eighth medal of the meet for Sports Performance student Lelliott, a MJ Church sporting ambassador coached by Mark Skimming in the London 2012 Legacy Pool. The World University Games Champion also claimed gold in the 200m butterfly (1:54.92), silver in the 400m freestyle (3:40.46), 200m backstroke (1:52.29) and 100m backstroke (51.94), and bronze behind Jarvis in the 200m freestyle (1:45.19).
Matching Lelliott's achievement of three gold medals was National Centre swimmer Attwood, who claimed individual successes in the 100m breaststroke (58.95) and 200m breaststroke (2:08.53). He missed out on the 50m title by just three-hundredths of a second, having to settle for bronze in a blanket finish (27.05).
"I'm really happy with that time because it's my first under 2:10," said Attwood after his 200m success. "I couldn't ask for much more. I just tried to stay relaxed and attack the second half, which I think worked out well. I just focused on my own race and stuck to my race plan."
Sport & Exercise Science student Anna Hopkin enjoyed double delight in the 50m and 100m freestyle, taking gold in a personal best of 24.37 and 53.87 respectively.
"I'm really happy with a PB," said Hopkin. "I was hoping to win the 50m but to get the 100m as well is a big bonus."
Chris Walker-Hebborn marked his first competitive outing since winning 4x100m medley relay silver with Team GB at the Rio 2016 Olympic Games by claiming 50m backstroke gold in 23.95.
"It was nice to dip under 24 and take the gold medal," said Walker-Hebborn. "This year has been pretty special. I was lucky enough to come away with a silver from the Olympics. Obviously I was a little disappointed with my individual performance [in Rio] but I got the end goal so I am happy."
Double Olympian Lizzie Simmonds led a National Centre Bath one-two in both the 100m and 200m backstroke, clocking 57.03 and 2:04.61 to edge out training partner Jessica Fullalove in both finals. Fullalove completed a hat-trick of silver medals by also finishing runner-up over 50m.
National Centre Bath new recruit Derbyshire, a Sports & Exercise Science student, completed the University of Bath medal haul by claiming 1,500m freestyle bronze in 14:33.06.
Narrowly missing out on individual medals were Hulme and International Development with Economics student Emily Siebrecht, who finished fourth in the men's 200m backstroke (1:56.70) and women's 400m individual medley (4:40.55) respectively.
The impressive medal haul concluded an excellent month of short-course action for University of Bath swimmers, with double Olympian and Chemical Engineering graduate Andrew Willis having won 200m breaststroke silver for Britain at the FINA World Championships in Windsor, Canada, with a new personal best of 2:02.71.
Want to swim in the same pool as Olympians? Click here to see the SwimFit timetable for public swimming sessions in the London 2012 Legacy Pool for the month ahead.