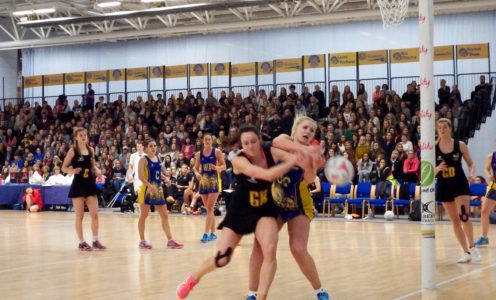 Team Bath Netball provided a sell-out home crowd with plenty to cheer as they came out on top in a well-contested tri-tournament against Loughborough Lightning and Wasps Netball at the University of Bath on Saturday.
After beating Lightning 39-26 in the opening match, the Blue and Gold – sponsored by Sitec – then came from behind to overcome a battling Wasps outfit 36-27 in the decisive third fixture of an action-packed afternoon.
Vitality Netball Superleague newcomers Wasps were impressive 48-35 victors over a spirited Lightning side in between those fixtures as fans were treated to plenty of entertaining netball in the build-up to the 2017 season.
It was Team Bath's second pre-season outing, after finishing runners-up to Wasps at the Mike Greenwood Trophy in Manchester before Christmas, and Director of Netball Jess Thirlby said there were plenty of positives to take from the afternoon.
"We're really pleased, we achieved so many of our objectives across the two games," she said. "We were able to try out various combinations and the players who came off the bench all had a good impact.
"We have definitely taken another step up since the Mike Greenwood Trophy and it was encouraging to see how much progress we have made. There are certain match situations you can't recreate in training and we handled them well today. The whole squad can take confidence from those performances.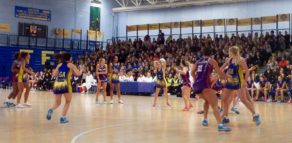 "It was also good to see us win in two different ways. The first game against Lightning saw us take an early lead and hold onto it throughout, only losing one of the four quarters. Against Wasps we found ourselves trailing at half-time but we turned it around brilliantly in the third quarter and then held off some strong pressure.
"We have to say a massive thank you to Lightning and Wasps for travelling here today. We really wanted to play them as both squads have huge talent and will be challenging for a top-four place this season. They provided us with fantastic opposition and I hope they have both taken something from this afternoon as well."
The opening match saw the hosts get off to a confident start against Lightning, opening up a 12-6 lead at the end of the first quarter thanks to some deadly shooting from Chelsea Lewis.
Despite losing Beth Codben to a dislocated finger, Lightning enjoyed the better of the second period and cut the gap to 18-15 but Team Bath reasserted themselves in the third quarter, with University of Bath student Paige Reed making a strong impact at goal attack.
Jazz Scott also made a welcome return from a long-term injury in the final period as Team Bath wrapped up an impressive 39-26 victory.
Cobden was able to return for Lightning's second match against Wasps but the Loughborough franchise suffered another injury blow when Lauren Nicholls landed awkwardly. Clearly in pain, the match was delayed for ten minutes while the wing defence received treatment and she eventually left the court in a knee brace and on crutches. All at Team Bath wish her a speedy recovery.
There was little choose to between Lightning and Wasps in the opening quarter but the Superleague newcomers managed to stretch their lead from 10-9 to 19-15 at half-time before, with Director of Netball Tamsin Greenway on court at wing-attack, going into the final period with a 34-25 advantage.
With Rachel Dunn – another former Team Bath player back on familiar territory – in fantastic shooting form, Wasps were able to wrap up a 48-35 victory and set up a last-match decider against the hosts.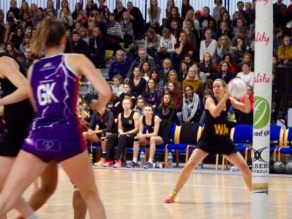 Wasps had beaten Team Bath twice in the Mike Greenwood Trophy tournament in Manchester last month and they held a narrow 8-6 lead at the end of a tight, tense opening quarter.
Momentum continued to ebb and flow in the second period, with Team Bath regularly getting to within one goal of their opponents, but a run of four unanswered points in the closing stages saw Wasps go into half-time with a 17-12 advantage.
It was Team Bath's turn to go on a scoring streak in the third period as Lewis came on to give them a 19-18 lead. With captain Eboni Beckford-Chambers leading by example with some tenacious defending at the other end of the court, the hosts were able to extend their advantage to 25-21 going into the final quarter of the tri-tournament.
Resilient Wasps refused to give in and quickly cut the gap to 27-26 but they missed a chance to draw level and that proved crucial as Team Bath killed the game off with nine goals in succession, going on to win 36-27.
Lightning will be back at the Sport Training Village on March 6 for Team Bath's first home fixture of the 2017 Superleague season – a match which is also part of the University's 50th-anniversary celebrations.
That is one of a bumper nine home matches being played at the Sports Training Village this year and season tickets are on sale now priced £75 for adults and £50 concessions.
Tickets for individual matches are also available priced £12 for adults, £8 concessions and £35 for a family ticket admitting two adults and two children or one adult and three children.
To purchase tickets, visit www.teambath.com/events/ticketline/ or call 0844 888 4412.
Team Bath Netball are sponsored by Sitec, Mogers Drewett are their Education Partners, Surridge are the kit supplier and Skins provide the team with compression wear.
Tri-tournament squads
Team Bath Netball: Eboni Beckford-Chambers, Layla Guscoth, Samantha Cook, Vangelee Williams, Mia Ritchie, Rachel Shaw, Jazz Scott, Amanda Varey, Paige Reed, Laura Rudland, Chelsea Lewis, Shantal Slater.
Loughborough Lightning: Beth Cobden, Chloe Essam, Ella Gibbons, Hannah Joseph, Jo Trip, Lauren Nicholls, Natalie Panagarry, Peace Proscovia, Rebekah Airey, Vanessa Walker, Vicky Oyesola.
Wasps Netball: Hannah Reid, Josie Huckle, Fran Williams, Sam May, Amy Flanagan, Nat Haythornthwaite, Lucy Parize, George Fisher, Rachel Dunn, Tamsin Greenway.