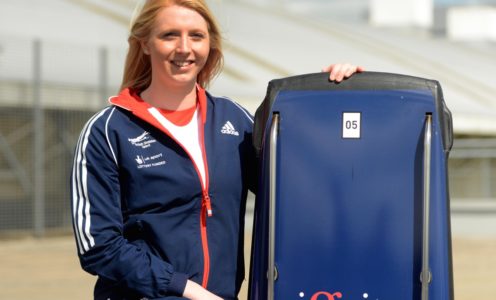 It was a weekend to remember for winter-sport athletes who train at the University of Bath as they made an impressive return to the international circuit.
The British Bobsleigh & Skeleton Association enjoyed a medal-laden visit to Park City in Utah as rising skeleton star Madelaine Smith (pictured) won back-to-back gold medals in the first North American Cup event of 2017.
Team-mate Donna Creighton was runner-up to Smith on both occasions, while the men's races saw Kenny Howard win bronze on Saturday and Marcus Wyatt take silver on Sunday.
Meanwhile, athletes with GB Luge – who are also based at the Sports Training Village – competed at the FIL European Championships in Koenigssee, Germany.
They entered the team competition for the first time and finished a fine tenth overall, with GB being represented by Danielle Scott, Rupert Staudinger, Adam Rosen and Ray Thompson.
GB made history today – 1st time racing as a team and 10th in European Champs #luge #team #relay #teamGB #squadgoals pic.twitter.com/4mH3X4T8Vm

— Danielle Scott (@daniscottluge) January 6, 2017
Both Scott and Thompson serve in the British Army and are among 31 athletes – ten of them from the Army – who are supported by funding from the Talented Athlete Scholarship Scheme (TASS) as they train at the University of Bath.
Click here for more information about TASS and our athlete support services.