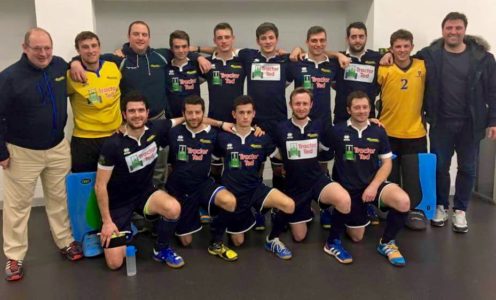 The Team Bath Buccaneers men's indoor squad have successfully retained their place in the England Hockey Super Sixes Premier Division for the 2017-18 season.
It is the first time Buccs have been able to consolidate their status after gaining promotion to the top flight and it could have been even better still as they came within one goal of a place in the national finals.
University of Bath women's hockey coach John Jackson, who captained Ireland at the Rio 2016 Olympic Games, and England U18 international Will Hewer bolstered a Buccs squad also featuring guest players Andy Pett (Teddington HC) and Andrew Eversden (Hockey Club HIC in the Netherlands).
Under the tutelage of former Buccaneer Tom Skinner, Jon Williams and manager Stu Adam, Buccs started life in the Premier Division with a pre-Christmas trip to Bromsgrove School.
They found themselves 3-0 up at half-time of their opening match against East Grinstead before the winners of nine consecutive indoor titles hit back to claim a hard-fought 4-3 victory.
Buccs picked themselves up to beat Loughborough by the same scoreline in their next match, Jackson pouncing on a last-minute rebound to seal the points, but there was frustration the following day as they suffered 6-4 defeats to both Canterbury and Reading.
A 7-5 loss to Sevenoaks in their opening match last weekend left Buccs facing the possibility of relegation but it proved to be the turning point as the lads regrouped and adopted a counter-attacking approach.
It paid dividends in their must-win match against Bowdon, although conceding two early goals was not what Buccs planned for. They rallied to lead 4-2 at half-time and, after Bowdon took off their keeper in favour of six outfield players, Buccs produced an incredible defensive display before picking their opponents off on the break to win 11-4 – Pett scoring a double hat-trick.
Similar tactics were employed in the excellent 5-3 win over Wimbledon, with Pett again capitalising on the creativity of Mackey, Scott and Jackson to bag three more goals while Vaughan and Eversden were rocks at the back.
That result meant Buccs went into the last match against table-topping Surbiton knowing a win would give them a great chance of making it to Wembley Arena for the finals day. Despite a huge performance from the whole squad, it was not quite to be as Surbiton's keeper produced some top-class saves in the dying moments to earn his unbeaten side a 5-5 draw.
However, the performances during the second weekend have given a massive boost to the Buccs squad for the rest of this season and looking forward to 2017-18's indoor campaign. Many thanks to all of the support, management and players who took part.
Squad: Stephen West (C), Ellis Sharp, Andrew Eversden, Toby Vaughan, Will Hewer, Liam King, Ben Mackey, John Jackson, Peter Scott, Ben Stone, Adam Croutear, Andrew Pett, Cameron Heald, Kyle Gladwin, Sam Anderson.
Management: Jon Williams, Tom Skinner, Stuart Adam.