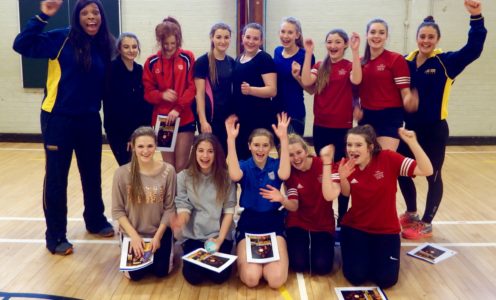 Dozens of young sportswomen from across the South West have received a training master-class from Team Bath Netball stars during inspirational school visits in conjunction with new Education Partner Mogers Drewett. 
Supported by funding from the West Country law firm, the fun and informative workshops have seen Blue and Gold players put the aspiring netballers through the attacking and defensive drills they use to prepare for Superleague and international competition.
They have also taken part in question and answer sessions, explained how they had balanced their academic and sporting commitments, and shared advice on the importance of healthy eating and pursuing an active lifestyle.
Team Bath Netball captain Eboni Beckford-Chambers, who is also a Trainee Solicitor with Mogers Drewett, has taken part in all five of the visits during the past month – to Hayesfield Girls' School in Bath; Hazlegrove School in Sparkford, Somerset; Sherborne Girls' School in Dorset; King's School in Bruton, Somerset; and Corsham School in Wiltshire (pictured).
"It has been an incredible experience," said Beckford-Chambers, who has won 77 caps with England. "The girls have been really receptive to all our ideas and their enthusiasm has made the visits an absolute pleasure.
"I am really passionate about sport and it is important that we are accessible to young people, so that they can see what is achievable and how they can balance their playing and education.
"We have had fantastic feedback from everyone who has taken part and we are looking forward to growing this programme over the next couple of years."
Beckford-Chambers has been joined on the visits by fellow England international Rachel Shaw, Wales goal-shooter Chelsea Lewis and rising England U21 star Jess Shaw.
"It has been really good to get out there, give the girls some skills to work on and share our experiences with them," said Jess during the visit to Corsham School, where she and Beckford-Chambers worked with 14 promising netballers selected from Years 10 to 13.
"Netball is getting so much bigger and it is important to get everyone involved. It's also important to make young people aware of pursuing a healthy, active lifestyle."
Among the young netballers taking part in the session at Corsham School was Year 12 student Holly Trippe, who plays for Corsham Town Netball Club.
"It's been pretty cool having Eboni and Jess here, I have watched a lot of their matches in the Superleague," she said. "They are at a stage of their career that I really want to get to, so it's been great to learn from them and get their advice on things like coping with injury and combining education and sport."
Mogers Drewett has supported a number of sporting initiatives and organisations, and for the last two years has been a key partner of the Pentathlon GB team, also based at the University of Bath.
The firm, whose Bath office is based in Queen Square, is also organising a corporate netball tournament with Team Bath Netball – taking place in June – to raise funds for a local charity.
Louise Kelly, Marketing Manager with Mogers Drewett, said: "There is a great alignment between the Mogers Drewett and Team Bath Netball brands – both celebrate excellence.
"We are delighted to be able to offer local schools in our region this unique opportunity and hopefully inspire some female athletes of tomorrow."
For more information on Mogers Drewett, visit www.mogersdrewett.com. For further details on Team Bath Netball, visit https://www.teambath.com/sport/netball.