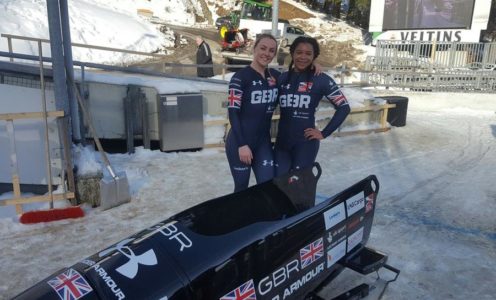 World Junior Champions Mica McNeill and Mica Moore will get GB Bobsleigh's World Senior Championships campaign under way in Konigssee, Germany this weekend.
They will race in the women's two-man bob competition on Friday and Saturday.
GB will have two crews in the men's event on Saturday and Sunday, with Joel Fearon pushing Bruce Tasker and debutant Sam Blanchet teaming up with Brad Hall.
Tasker and Fearon will be looking to go one better than their superb showing in Igls last season when they came agonisingly close to bagging a bronze medal in GB Bobsleigh's best World Championships finish in 50 years.
GB Bobsleigh Performance Director Gary Anderson said: "We are on a very positive trajectory having hit all the targets set in the past seven seasons and we go into these World Championships with the intention of doing so yet again.
"I'm happy with the strength of the squad and the talent available to us for these World Championships and I'm excited to see how we perform on the big stage over the next two weekends."
The British Bobsleigh & Skeleton Association (BBSA) is based at the University of Bath, with its world-class athletes training on the UK's only outdoor push-start track and in the EiS High-Performance Gym.
Click here to see who is in the British Skeleton squad for the World Championships.