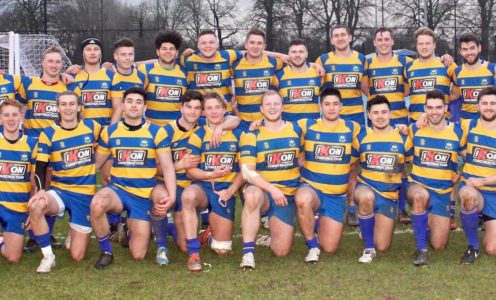 The University of Bath Rugby Men's 1st XV ended the BUCS Super Rugby regular season with an impressive 25-19 away win over Durham University on Wednesday.
Trailing 14-10 at half-time, Bath battled to victory thanks to tries from Jake Allen, Conor McGrath and Jack Davies, and two penalties and two conversions from Hugo Stiles.
The result sets up a fascinating showdown between the same two teams in the quarter-finals of the BUCS Rugby Championship – the league's post-season competition – in two weeks' time.
Reflecting on the season as a whole, Director of Rugby Aaron James said: "It's the first season of Super Rugby and there has been a lot of learning for everybody – players, coaches and staff.
"The standard has been even better than we thought it would be but the boys have been really good in their attitude and the way they have approached the season, and we cannot fault their effort and intensity. They have also handled the increased travel and training commitments maturely, ensuring a good balance between sport and study.
"Fifth place is OK but I think we were capable of being in the top four and we'd like to have finished that bit higher. When we look back there are some games we could have won and bonus points we have missed, which is a wee bit frustrating.
"I also don't think that we have produced the best performance we can, but that's exciting because it shows the potential we have."
Teams
Durham University: 1 Nat Opedo, 2 Harry Baron, 3 Diogo Hasse-Ferreira, 4 Colin Markham, 5 Jack Heeney (c), 6 Joe Duffy, 7 Ethan Harbinson, 8 Cai Devine, 9 Tim Turner, 10 Charlie Norman, 11 Ben Stevenson, 12 Nathan Holmes, 13 Tom McClean, 14 Rory Hardman, 15 Tristan Rawcliffe. Replacements: 16 Jack Beazer, 17 Max Hydes, 18 William Hyde, 19 Cameron Coulson, 20 Harry Bassett, 21 Henry Slater, 22 Rob Stevenson.
University of Bath: 1 Connor McGrath, 2 George Frampton, 3 Ben Gasson, 4 Scott Russell, 5 Will Britton (c), 6 Jack Davies, 7 Adam McCarthy, 8 Tom Kynge, 9 Jack Turner, 10 George Humphrey, 11 Jake Allen, 12 Charlie Dunbar, 13 Robbie De Bruyan, 14 Dan Rowland, 15 Hugo Stiles. Replacements: 16 Jordi Den Hartog, 17 Jack Buckingham, 18 Austin Hay, 19 Freddie Avis, 20 Chris Barry, 21 Will Flinn, 22 Craig Duncan.
Tries: McGrath, Allen, Russell
Penalties: Stiles (2)
Cons: Stiles (2)
Final Super Rugby table
| | | | | | | | | |
| --- | --- | --- | --- | --- | --- | --- | --- | --- |
| # | Team | Played | Won | Drawn | Lost | Points difference | Bonus points | Points |
| 1. | Hartpury College | 14 | 12 | 0 | 2 | 159 | 9 | 57 |
| 2. | University of Exeter | 14 | 11 | 0 | 3 | 192 | 9 | 53 |
| 3. | Loughborough University | 14 | 10 | 0 | 4 | 160 | 12 | 52 |
| 4. | Durham University | 14 | 9 | 0 | 5 | -25 | 6 | 42 |
| 5. | University of Bath | 14 | 7 | 0 | 7 | -24 | 4 | 32 |
| 6. | Northumbria University | 14 | 4 | 0 | 10 | -242 | 5 | 21 |
| 7. | Cardiff Metropolitan University | 14 | 3 | 0 | 10 | -48 | 8 | 20 |
| 8. | Leeds Beckett University | 14 | 0 | 0 | 14 | -172 | 4 | 4 |